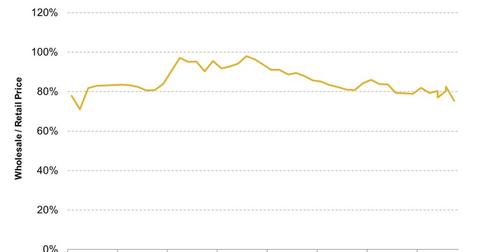 Why potash producer competition is at a 3-year high
By Xun Yao Chen

Updated
The wholesale-to-retail price ratio
The wholesale-to-retail price ratio may reflect the difference in economic power between fertilizer producers and fertilizer retailers. When the wholesale-to-retail price ratio is rising, it likely reflects better economic fundamentals for wholesalers compared to retailers. On the other hand, when the wholesale-to-retail price ratio is falling, investors may see it as a negative.
A retail price cut contributed to the higher ratio
On October 11, 2013, the wholesale-to-retail price ratio for potash had stood at 82.5%, rising from 77.0% in September. The late increase likely reflects the fact retailers are cutting prices amid lower crop prices, while wholesale prices haven't declined as poorly.
Competition has risen since 2011
Article continues below advertisement
The relatively low wholesale-to-retail price ratio compared to the past five years suggests that the supply of potash is loose or demand isn't robust. As emerging markets' growth has fallen and the Indian rupee weakened, so did demand of potash. Increased capacity, which was built throughout the past few years due to higher potash prices, is also a factor driving competition higher—not to mention the recent breakup of partnership between Uralkali and Belaruskali likely gave retailers more bargaining power.
Waiting for the indicator to turn around
The current trend remains negative for the profitability of fertilizer producers' like Potash Corp. (POT), Mosaic Co. (MOS), Intrepid Potash Inc. (IPI), and Agirum Inc. (AGU). However, investors should look out for the indicator to turn up, as it did in 2010 and 2011, when food inflation, crop prices, and demand for fertilizers were rising. A reversal in the trend will suggest potash producers are cutting supply or that demand is rising, which should translate to higher profitability. The VanEck Vectors Agribusiness ETF (MOO) should benefit as well in this case.