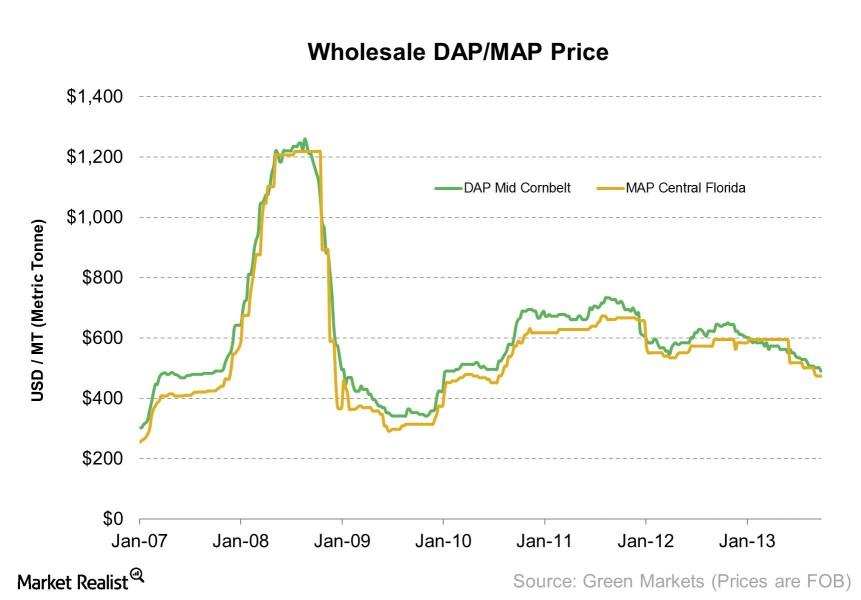 Phosphate sales fall but the market already priced in the decline
By Xun Yao Chen

Oct. 29 2019, Updated 5:00 p.m. ET
The significance of potash price
Wholesale potash price is one of two factors (the other being sales volume) that influence potash producers' revenues. When prices rise, so does revenue, which will translate to higher profitability (margins), earnings, and share prices. However, when prices fall, they will have a negative impact on fundamentals and share prices. Conversely, falling fertilizer prices are negative for fundamentals and can have an unfavorable impact on share prices (unless you're shorting).
Phosphate prices seeing decline
Article continues below advertisement
Like potash prices, wholesale phosphate fertilizers (DAP and MAP) have been falling since 2011. On September 30, prices for DAP at the mid-cornbelt stood at $491 per mt (metric tonne). Compared to potash, phosphate prices have performed better. They're currently holding at ~$200 per mt above the lows seen in 2009. Similar to the potash industry, the phosphate industry has been negatively affected by the depreciating Indian rupee, unfavorable government subsidies, and an increase in new capacity.
Prices between MAP and DAP don't differ much, and it's more important to analyze the trends rather than the difference. The DAP mid-cornbelt price is used because the indicator tends to be more responsive to changes in demand and supply than the prices in central Florida—despite several companies' selling prices that are nearer to the levels quoted in central Florida because of its proximity to most plants and warehouses.
Companies lowering fertilizer price estimates
Article continues below advertisement
In its second quarter fiscal year 2013 earnings call, Mosaic Co. (MOS) expressed concerns that in the near term, phosphate prices, along with potash prices, will be negatively impacted by unfavorable government subsidies and a depreciating rupee. Recently, Mosaic Co. (MOS) revised phosphate, realizing prices for DAP for the third quarter would be between $430 and $440 per mt, which is down slightly from $430 to $465 per mt.
This isn't very far off when the regional price premium of ~$30 per mt is stripped out from the current price of $491 per mt at the mid-cornbelt. The $30 per mt difference was measured by taking the average difference, which is likely due to transportation cost, between major producers' realized prices and the mid-cornbelt price over the past eight quarters.
Negative near-term outlook maintained 
As long as the rupee remains weak and subsidy policy doesn't change, phosphate fertilizers will remain negatively affected. But some industry experts and companies' presentations predict that shipments will start to increase next year, so it may be good to be a bit optimistic. If the global economic condition strengthens next year, food consumption may rise and support fertilizer application. This case would be positive for other fertilizer producers such as CF Industries Holdings Inc. (CF) and Agrium Inc. (AGU), which derive a small part of their revenues from wholesale phosphate, as well as Potash Corp. (POT).
The market has likely priced these factors in
Besides, with the shares of MOS and POT now trading slightly above 2009–2010 lows, most of this is likely priced in already. Share prices may still fall along with a broad market sell-off, but current valuations don't look expensive. This is also somewhat positive for the VanEck Vectors Agribusiness ETF (MOO).