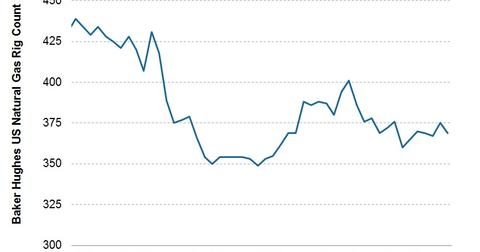 Why have natural gas rig counts been range-bound despite forecasts?
By Ingrid Pan

Oct. 11 2020, Updated 11:51 a.m. ET
Natural gas rigs fell last week
Baker Hughes, an oilfield services company, reported that rigs targeting natural gas decreased last week, to 369 from 375 for the week ending December 13. Over the past few months, natural gas rig counts have been roughly range-bound between 360 and 380.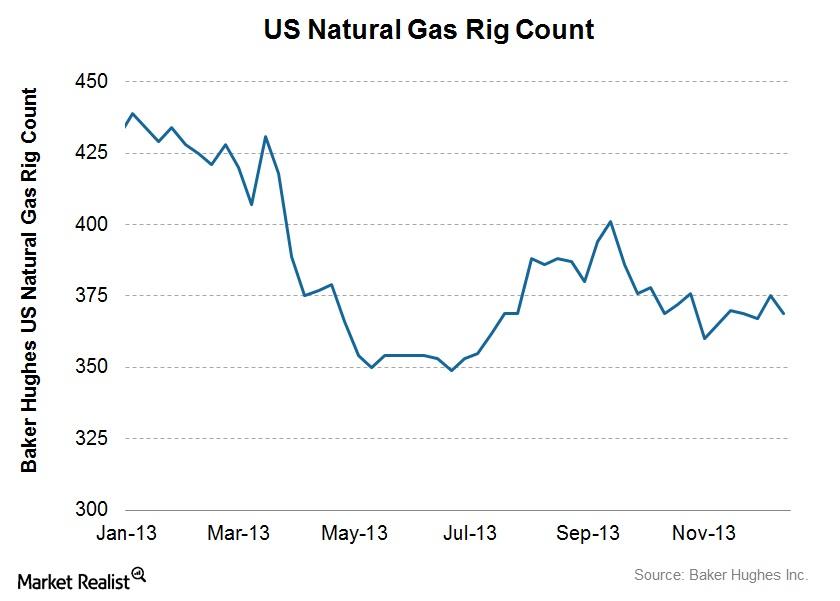 Natural gas rigs were forecasted to decline in 4Q13
Altogether, though, with natural gas currently trading around ~$4.20 per MMBtu, there isn't much of a catalyst for natural gas activity to pick up significantly from current levels, as it remains a relatively low price from a long-term perspective. Plus, on Baker Hughes' (BHI) 3Q13 earnings call, management noted that it expects natural gas rigs in 4Q13 to average 340, about 8% lower than current levels, with the drop in rigs due both to normal seasonality in winter months and increased efficiency allowing upstream names to produce more with fewer rigs. Lastly, producers are becoming more efficient at drilling for natural gas with fewer rigs, which also may be keeping rig counts depressed. However, given that natural gas rigs drilling quarter-to-date have averaged ~370, the 4Q13 average is likely to be significantly higher than 340.
Background: Natural gas rigs have fallen sharply over the past few years, also due to low prices
From a longer-term perspective, natural gas rigs have been largely falling or flat since October 2011 in response to sustained low natural gas prices (see the natural gas price graph below). Falling gas prices can lead producers to stop drilling for natural gas.
Article continues below advertisement
Natural gas rigs drilling can indicate the sentiment of major natural gas producers such as Chesapeake Energy (CHK), Comstock Resources (CRK), Southwestern Energy (SWN), and Range Resources (RRC). Many of these names are also part of energy ETFs such as the S&P Oil & Gas Exploration & Production ETF (XOP).
Though natural gas prices have had a strong rally over the past month, they're still relatively low from a long-term perspective (see Why natural gas prices had another strong rally). Given current gas prices and increasing driller efficiencies, there doesn't seem to be a strong incentive to increase natural gas targeted activity. If prices move upward or producers can significantly lower cost curves even further, that could be an impetus for natural gas rigs and natural gas drilling to increase. However, both of these scenarios would likely be in the longer term rather than short- or medium-term horizons.