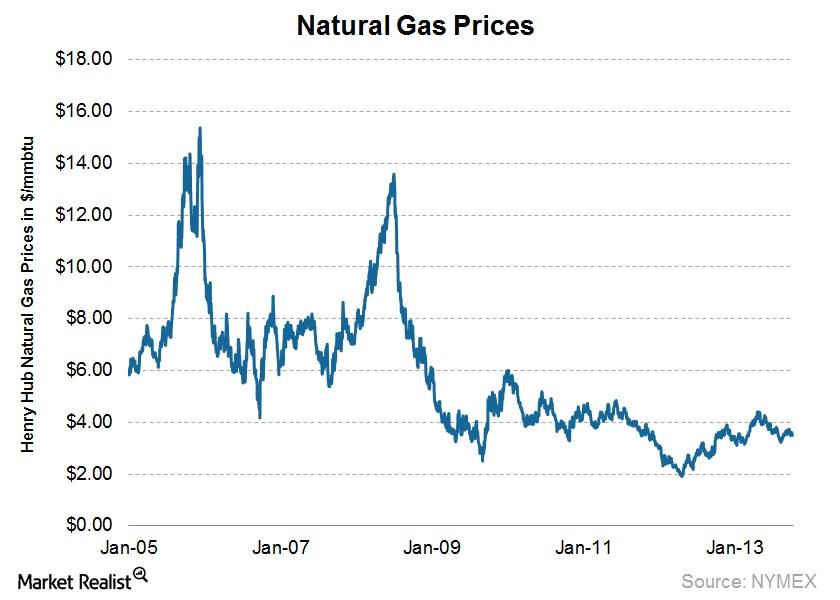 Must-know: Why is Regency's acquisition of PVR Energy important?
By Ingrid Pan

Nov. 20 2020, Updated 4:20 p.m. ET
Gas prices may be low now, but long-term gas drilling is here to stay in North America
Currently, natural gas prices are relatively depressed, and short-term natural gas drilling activity on the whole doesn't appear to be rising (see Why natural gas rigs aren't likely to rise much through year-end). However, Regency's purchase of PVR signals that the company believes in the long-term potential of North American natural gas. Aside from PVR's coal royalties business, its midstream business is substantially natural gas–focused. Ostensibly, Regency had considered a suite of potential acquisition targets and capital expenditure projects. But it believed PVR's assets were the best fit for the company at this point. Interestingly, the same day that Regency announced it would purchase PVR Energy, Crestwood Midstream (CMLP) announced it would purchase Arrow Midstream, a company with assets located in the oil-centric Bakken, for $750 million.
Regency management also stated its confidence in the future of natural gas on the acquisition call. It commented, "We have a strong belief in the long-term demand for natural gas, and we will continue to focus on expanding our footprint in the most prolific gas and liquid plays in North America."
Regency is bullish about the Marcellus and Utica Shales
Article continues below advertisement
Given that most of PVR Energy's assets and cash flows are from its Eastern Midstream operations, with exposure to the Marcellus and future revenues possible from the Utica, Regency's purchase of PVR is a bullish bet on the future of these two plays. Prior to the transaction, Regency had a presence in many of the major shale plays of the US, with the Marcellus being one notable gap. Likely, Regency had been looking for an opportunity to gain a foothold in the region for a while, which would have made PVR's assets particularly attractive.
Regency CEO Mike Bradley stated on the call following the acquisition announcement, "Not only does (the acquisition) significantly expand our business and scale, but the combination puts Regency in a position in the Appalachia basin with the Marcellus and Utica, which every report you have read indicates that's going to be one of the premier basins for growth over the next several years, and we think that's a very strategic position to be in."
The MLP boom continues
On the same day that Regency announced its acquisition of PVR, Crestwood Midstream (CMLP) announced an acquisition of Arrow Midstream for $750 million. Master limited partnership M&A (mergers and acquisition) activity remains robust both on an asset and corporate level. On a broad level, US natural gas and oil production continues to grow. With this growth comes demand for midstream infrastructure. The backdrop of both growing hydrocarbon production and relatively cheap funding means a positive environment for MLP growth, and companies are hungry for well-positioned assets.