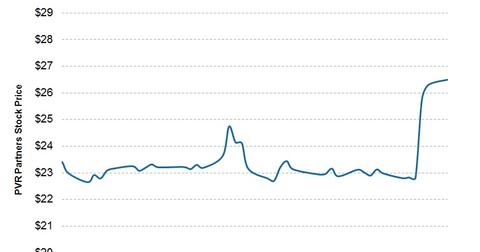 Must-know: Key risks of Regency's PVR Partners acquisition
By Ingrid Pan

Updated
Risks to PVR Partners
The main risk to PVR Partners unitholders would be that the transaction doesn't go through, as Regency purchased PVR for a significant premium (~25%), and if the transaction were in jeopardy or canceled, PVR shares would likely fall. The completion of the transaction is subject to a vote by PVR unitholders as well as regulatory and other customary conditions such as anti-trust review approval. Overall, Market Realist sees little chance of PVR unitholders rejecting the transaction or of the acquisition facing significant regulatory hurdles.
Article continues below advertisement
Another risk to PVR unitholders is exposure to Regency unit price movements. Because PVR unitholders are receiving mostly Regency stock (as opposed to cash), PVR units will likely fluctuate with movements in Regency stock. If this were a cash transaction, PVR units would likely trade at a slight discount to the agreed upon cash purchase price, and would be less exposed to RGP equity.
Risks to Regency Energy
The main risk to Regency is that PVR's assets and growth prospects don't perform as well as projected—that is, that Regency overpaid for PVR's assets. The acquisition could prove less attractive than Regency had projected if PVR's assets underperform for some reason, if Regency has trouble integrating PVR's operations into its own, or if estimated synergies (~$30 million per year) aren't as high as projected.
For example, Regency expects significant upside from PVR's assets, particularly its Eastern Midstream operations, which make up the majority of PVR's EBITDA (earnings before interest, tax, depreciation, and amortization). In this segment, primary customers include Chief, Range Resources, and Chesapeake Energy. Decisions by these customers to scale back drilling in the area could negatively affect the performance of the midstream assets there. Plus, any changes in the regulatory environment around the Marcellus (concentrated in Pennsylvania) could add downside risk.