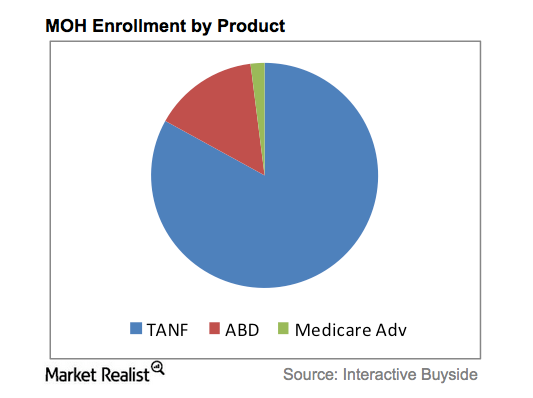 Molina Healthcare: The company's foothold in a growing market
Molina Healthcare, Inc. (MOH)
As one of the leading Medicaid-focused HMOs (health maintenance organizations), MOH enjoys a strong foothold in one of the healthcare sector's fastest-growing markets. MOH should directly benefit from healthcare reform as states like California, Michigan, and Washington expand their Medicaid rolls. In addition, there is a robust pipeline of contract opportunities transitioning state Medicaid programs from traditional government fee-for-service mechanisms to managed care. In the near term, MOH should see upside to earnings versus current expectations driven by easing medical cost trends and conservative 2013 guidance. Over the medium and longer term, the growth story is compelling, as the company has indicated a 2015 goal of doubling its revenue base while simultaneously improving margins. Based on industry trends, MOH could grow its top line 20% or more over the next five years or more. In addition, as margins are still recovering from the higher medical costs experienced in 2012, further normalization of cost trends could lead to significant earnings growth. Given these opportunities, the company is undervalued, trading at just under 15x consensus 2014 estimates, which could be as much as 20% too low.
Article continues below advertisement
Molina Healthcare (MOH) is a Fortune 500 managed care organization focusing on providing health services to Medicaid-eligible families and individuals. The company also assists state agencies in their administration of the Medicaid program through its subsidiary, Molina Medicaid Solutions. The company focuses exclusively on government-sponsored health care programs and operates health plans in ten states while its Molina Medicaid Solutions segment provides design, development, implementation, and business process outsourcing solutions to Medicaid agencies in an additional five states.
Additionally, MOH operates primary care community clinics providing direct delivery of primary care constituting 17 primary care community clinics in California, two clinics in Washington, and three county-owned clinics in Fairfax County, Virginia. Medicaid sub-segments of TANF (Temporary Assistance for Needy Families), CHIP (Children's Health Insurance Program), and ABD (Aged Blind or Disabled) comprise the lion's share of its 1.8 thousand enrollees while Medicare Advantage only accounts for the remaining 2%.
MOH operates licensed health plans in nine states—namely, California, Florida, Michigan, New Mexico, Ohio, Texas, Utah, Washington, and Wisconsin, with Illinois to begin in 2013. Washington and California appear to be the biggest states, cumulatively accounting for nearly 42% of the total enrollment.
The Market Realist Take
On October 3, the company announced that its board of directors had authorized the repurchase of up to $50 million in aggregate of the company's common stock. The repurchase program is effective September 30, 2013, and will be funded by existing cash on hand. Molina said on its Investor Day in September that it believes it has adequate capital in place (including future retained earnings) to support its growth, but it might consider capital raises for potential acquisitions or more growth or variability in profitability versus expectations. The company added that it expects a 50% increase in revenue, to $12.5 billion, by 2015 from dual-eligibles (patients receiving both Medicare and Medicaid). The Affordable Care Act (or ACA) will lead to more patients receiving healthcare from the expansion of Medicaid, and setting up health insurance exchanges run by the government for patients with low income. The ACA exchange products will contribute $1 billion during the period. The Congressional Budget Office estimates that approximately 24 million people will be covered by these exchanges in the next ten years.
UnitedHealth Group Inc. (UNH), WellPoint Inc. (WLP), Health Net Inc. (HNT), Centene Corp. (CNC), Humana Inc. (HUM), Cigna Corp. (CI), and Aetna Inc. (AET) are Molina's competitors.