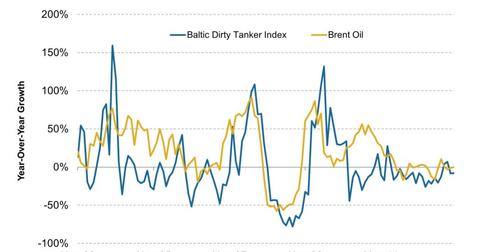 Key tanker stock drivers: Baltic Dirty Tanker Index and Brent oil
By Xun Yao Chen

Updated
Brent oil and the Baltic Dirty Tanker Index
Commodity prices and shipping rates are like twins: when prices like oil are rising, they often reflect a faster increase in demand than supply—and higher demand often correlates with trade activity. As vessels like crude tankers can take up to five years to build, they also mean higher shipping rates. Conversely, when prices are falling, they can portray a negative impact on the price of shipping oil across water.
Strong relationship between Brent oil and BDTI growth
Article continues below advertisement
The chart above compares the year-over-year growth in the BDTI (Baltic Dirty Tanker Index), which tracks the average prices of hauling crude oil on representative routes, and Brent oil, the benchmark for crude oil prices. While correlation between the two isn't particularly strong, it's fairly decent, at 0.50. In fact, if year-over-year growth for Brent oil shifts two months forward to the right (into the future), the correlation rises to 0.69.
Correlation figures closer to 1 show a stronger relationship between the two variables, while figures closer to -1 show a stronger negative relationship. The closer they are to 0, the weaker the relationship becomes.
The Middle East and OPEC are driving production and shipping demand
Throughout much of the 21st century so far, the Middle East (or OPEC—Organization of the Petroleum Exporting Countries) has been the key driver for incremental oil production. As oil prices rise because of demand, OPEC will increase production, since one of its objectives is to ensure efficient, economic, and regular supply of petroleum to customers. That meant increased demand for crude tankers to carry unrefined (crude) oil from the Middle East and Africa to the rest of the world.
Article continues below advertisement
On the flip side, when oil prices do fall because of weakening demand, or increased supply in non-OPEC countries (like what we're seeing now), demand for oil falls. To help protect profitability, members of OPEC will cut production to stop oil prices from falling as much. That means less demand for crude tankers to ship oil out of countries like Saudi Arabia and Nigeria.
Brent oil price down on higher interest rate in China 
On October 23, Brent oil was trading at ~$108 a barrel on ICE futures. Poor September US labor data and an increase in Chinese interest rates, which could negatively affect oil consumption and imports, were the main reasons Brent fell from $110 a barrel since a week ago. Brent oil will likely trade sideways for now until further improvements in economic growth hold and China's money market interest rate falls.
If oil prices do rise over the medium to long term, though, expect Frontline Ltd. (FRO), Teekay Tankers Ltd. (TNK), Nordic America Tanker Ltd. (NAT), DryShips Inc.'s (DRYS) tanker business, and the Guggenheim Shipping ETF (SEA) to benefit. Conversely, if oil prices do fall, the outlook will be negative.