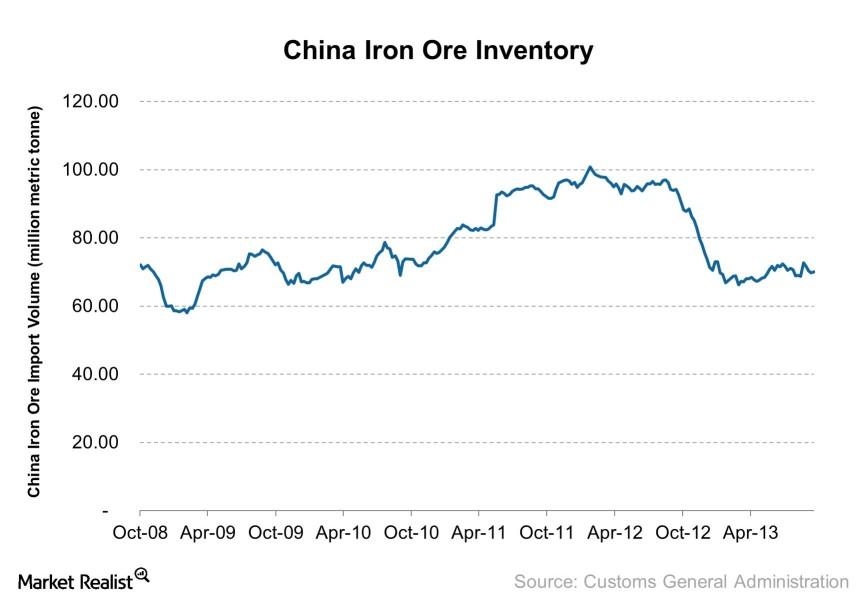 Iron ore inventory still low, good for dry bulk shipping stocks
By Xun Yao Chen

Nov. 27 2019, Updated 1:01 p.m. ET
Iron ore inventory
Iron ore inventory at Chinese ports can be an important factor that affects shipping rates, since it reflects the safety net and the imbalance between iron ore supply and steel mill demand. When inventory levels are high, they reflect possible over-purchases by importers, which may prompt importers to cut back on imports in order to lighten up inventory in the near future. On the other hand, when inventory levels are low, importers may restock, which will aid iron ore shipments.
Steel manufacturers drew more iron ore than they replenished
Article continues below advertisement
Iron ore inventory at Chinese ports stood at 70.0 million mt (metric tonnes) on September 27, which is down from 72.8 million mt at the end of August, according to Antaike Information Development Company. The decrease in inventory suggests steel manufacturers drew more than the amount of iron ore that arrived at Chinese ports.
Inventory levels have been falling since September 2012, as importers tried to lighten up inventory despite a pick-up in industrial activity in mid-2012. Before the decline, inventory levels had risen close to 100 million mt, as importers took advantage of falling commodity prices in late 2011 even though growth was starting to deteriorate.
Inventory-to-production near five-year lows
Given that manufacturing activity sentiment, based on manufacturing PMI, ticked up slightly for September, investors can also expect the inventory-to-production balance to remain historically low. But because steel output is only reported monthly, the indicator isn't released very often. Nevertheless, port inventory as a percentage of monthly crude steel production is a preferred assessment indicator because it shows how much iron ore is readily available based on current output. In August, the indicator stood at 110%, up from 109%, which was significantly below the historic average of ~145%.
Article continues below advertisement
As imports' shares of total iron ore supply in China have gradually increased from 2006, low inventory at Chinese ports isn't because of less reliance on imported product. So low inventory serves as a cushion for stable iron ore shipments if crude steel production falls from here. On the flip side, traders could import more iron ore, given appropriate prices, if steel production continues to grow at a stable rate.
Support and further upsides
The indicator will act as a support in weak economic conditions and show possible further upsides in iron ore shipments when economic growth is healthy. Although Capesize rates, for the primary vessel that hauls iron ore and coal, have risen significantly over the past two months and should see some declines when seasonality peaks, there's enough room to support above-normal imports over the long run if traders believe the price is right. This bodes positively for DryShips Inc. (DRYS), Diana Shipping Inc. (DSX), Navios Maritime Partners LP (NMM), Navios Maritime Holdings Inc. (NM), and Safe Bulkers Inc. (SB).