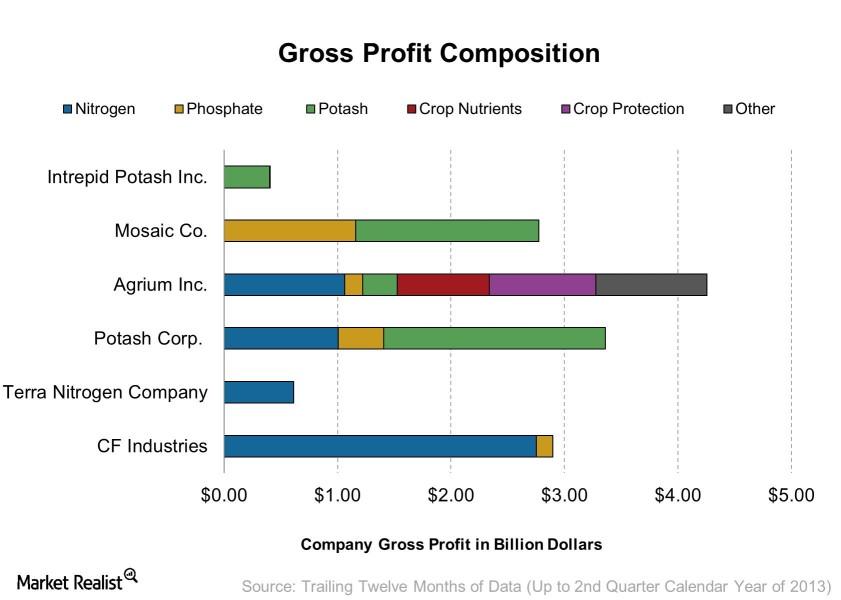 Why investors prefer gross profit to revenue as an exposure metric
By Xun Yao Chen

Oct. 17 2013, Updated 1:00 p.m. ET
Exposure: Using gross profit
When people talk about exposure, they often talk about revenue. It's a starting point. But exposure can have different perspectives: exposure to products, raw material costs, earnings, stock price, revenue, clients, et cetera. Ultimately, an investment decision is based on how much cash or earnings the company can generate. So it's often a good idea to look at gross profit composition.
Comparing gross profit
Article continues below advertisement
The chart above shows the gross profit composition of different product lines of major companies in the fertilizer business. Gross profit is calculated by subtracting costs associated with the direct production and sales of fertilizer. It doesn't include costs like selling or general and administrative expenses that are used to promote a company or a product, run day-to-day corporate operations like accounting work, and cover management expenses. A comparison of gross profit between companies in the fertilizer industry shows the varying degree of exposure to different fertilizers in terms of profits.
Profitability differs among fertilizers
Earlier, we saw more than half of Mosaic Co.'s (MOS) business being exposed to phosphate. But from an earnings standpoint, its potash segment has a greater influence. This characteristic is also illustrated in the relative gross profit composition for Potash Corp. (POT). While the company derives its revenue almost equally from three different types of fertilizer, its profit exposure to potash is almost five times larger than that of the phosphate segment. These differences in profitability composition reflect the more competitive nature of the phosphate industry compared to potash (see below).
Profitability variation down the supply chain
Article continues below advertisement
The difference in profitability isn't only present among different types of fertilizers, but also along the industry supply chain. Agrium Inc. (AGU), which generated ~80% of its revenue from its retail, service, and non-fertilizer production business, generates about 36% of its gross profits from its wholesale fertilizer production business. Because retail business requires marketing and advertising expenses, which aren't recorded as cost of goods sold in the financial statement, the actual business profitability for Agrium's non-fertilizer production business is less.
While fertilizer producers like Potash Corp. (POT), CF Industries Holdings Inc. (CF), and Mosaic Co. (MOS) incur operating expenses like day-to-day management fees, bookkeeping, office rates, and corporate salaries that are less than 5% of total revenue, the figure for Agrium Inc. (AGU) is higher, at ~15%. So, from an earnings standpoint, Agrium's business is still highly exposed to fundamentals in fertilizer production—particularly nitrogen.
The sector ETF is always an option
As always, investors looking to gain a broader exposure to agriculture, which includes bio-seed production and agriculture machinery, as well as a less volatile investment, have the option of using the VanEck Vectors Agribusiness ETF (MOO).