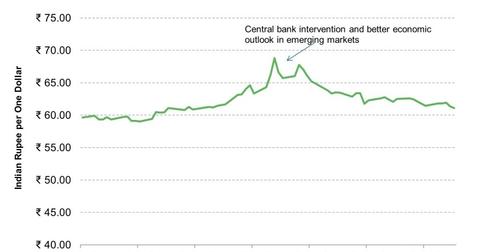 Why India's economy will be the next test for fertilizer stocks
By Xun Yao Chen

Oct. 11 2013, Published 9:37 p.m. ET
Potash producers lower sales price to help India with its lower rupee
In a recent WSJ report, Zuari Agro Chemicals Ltd. of India was said to be renegotiating its contracts to import potash. This comes after potash producers had agreed on a discount of ~12% in September to the largest Indian importer, Indian Potash Ltd., a sign that buyers are trying to receive some discounts on existing deals after the collapse of a partnership between Uralkali and Belaruskali. While lower supply power, due to the breakup of Uralkali and Belaruskali, likely opened up opportunity for Indian producers to renegotiate the contract, the main reason potash suppliers were willing to go for a discount was to help India cope with its falling rupee.
Interventions, non-tapering, and stronger manufacturing supported the rupee
Amid a fast-depreciating rupee, India's central bank stepped in to increase the dollar supply in exchange for the Indian rupee. As part of attempts to halt the rupee from depreciating further, the central bank was said to have provided dollars directly to oil firms.
Better manufacturing sentiment in emerging markets, particularly China, contributed to a lower rupee thereafter, as it would be favorable for India's exports. The Fed's announcement not to taper in mid-September also contributed to a stronger rupee.
Within one month, the rupee has fallen from 67 rupees per dollar to 62 rupees a dollar. The outlook of the Indian rupee will depend on the country's future economic growth prospects and what the Fed will do with its asset purchase agreement.
The Indian rupee is unlikely to weaken drastically in the near term
Article continues below advertisement
Regarding the Fed's taper, the market believes that the Fed won't taper until employment recovers more and economic activity strengthens. Based on the FOMC (Federal Open Market Committee) minutes—a report that details the meeting's discussion—for  September, Brent Nyitray, our real estate and REITs analyst, noted that weak economic activity and a soaring interest rate were the main reasons Fed members didn't want to taper in September. And for those who did support tapering, it was because they were worried about sending mixed messages to the market. So while the Fed could start tapering a bit to be consistent with its words, the tapering is unlikely to be a dramatic move, which will support the Indian rupee. Stabilizing economic growth is the next thing to watch for
As far as India's economic growth goes, a stable Indian rupee should help with imports. But the rest of it will depend on how successful the reforms will be in bringing India back to solid growth over the short to medium term. If economic growth does pick up, then you can expect India to purchase more fertilizers like phosphate and potash, which bodes positively for the sales and prices for Potash Corp. (POT), Mosaic Co. (MOS), Agrium Inc. (AGU), and Intrepid Potash Inc. (IPI). The VanEck Vectors Agribusiness ETF (MOO) will also benefit.