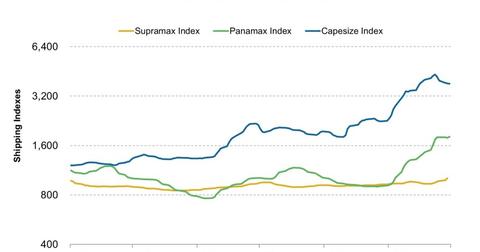 Idea: Do dry bulk stocks actually follow the Baltic Dry Index?
By Xun Yao Chen

Updated
Overall pull-back or correction in dry bulk shares
Dry bulk shares pulled back a bit over the last few days, weighed down by overall market weakness, profit taking, unexciting movements in Baltic rates, and analysts' cautions. Last week, we published an article titled Share price pull-backs are normal in a dry bulk shipper uptrend. For the next few days or weeks, we could see share prices consolidate or pull back further, depending on the stock. However, fundamentals remain positive for these dry bulk companies.
The Baltic Dry Index often doesn't affect dry bulk shares short-term
As we approach the typical peak months (October and November) for dry bulk shipments from the Southern Hemisphere, some shareholders decide to sell their shares, expecting prices to drop. Analysts themselves are also cautious. But past data might suggest investors shouldn't be so afraid.
Article continues below advertisement
The below chart shows the relationship between the average monthly returns for the five dry bulk shipping companies—Safe Bulkers Inc. (SB), Navios Maritime Holdings Inc. (NM), Navios Maritime Partners LP (NMM), DryShips Inc. (DRYS), and Diana Shipping Inc. (DSX)—and the Baltic Dry Index, which is an index released by the Baltic Exchange that reflects the overall price of shipping dry bulks overseas.
As the above chart shows, there hasn't been a whole lot of positive correlation between movements in BDI (Baltic Dry Index) and dry bulk shipping companies. Of the 59 data points collected, only 32 had months when returns in the Baltic Dry Index matched that of dry bulk shipping companies'. That is, when returns for BDI were positive, dry bulk shipping companies also performed well, and when returns for BDI were negative, dry bulk shipping companies also fell.
The overall market has an impact on dry bulk shares
Article continues below advertisement
This suggests that the Baltic Dry Index isn't really a major catalyst of dry bulk shipping companies' shares on a short-term basis—unless something out of the ordinary occurs, like what we've seen lately. Interestingly enough, when movements in dry bulk shipping companies do diverge from the BDI, they're often driven by broad market factors. For example, during mid-2010 and 2011, dry bulk shipping companies performed poorly along with the market. In early 2010, when the BDI was soaring, the performance of dry bulk shipping companies was weighted down by weakness in the S&P 500.
For new investors, the government shutdown crisis could be a great opportunity if the long-term fundamental outlook remains positive for shipping. How long will it last? I don't have the answer. With the overall market showing strong performance up to date, driven by continuous easing by the Fed (central bank), politicians are getting comfortable. It could last a few more days or weeks, or until the market falls a bit more and politicians really start to get the feel of a government shutdown. That's a downside risk to consider.
On the flip side, several dry bulk indicators are saying dry bulk rates will recover over the long term. If investors have faith (not blind faith), then there's a risk they could miss out on possible returns if they don't have any position or they sell out because of fear. Let's take a look at these long-term fundamentals.