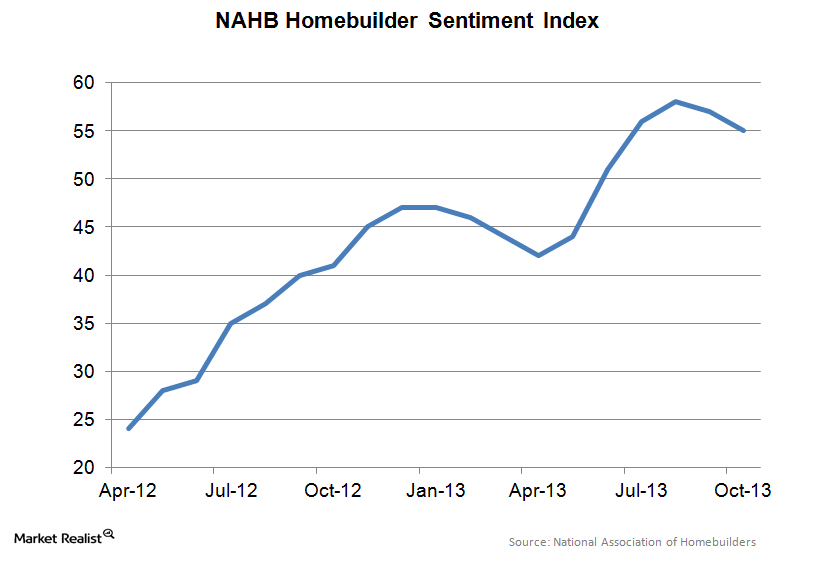 Homebuilder sentiment dips as traffic slows and shutdown persists
By Brent Nyitray, CFA, MBA

Nov. 20 2020, Updated 11:02 a.m. ET
The National Association of Homebuilder Sentiment Index is a closely watched measure of future building activity
The National Association of Homebuilders Sentiment Index measures homebuilders' confidence. It gauges builder perceptions of current and future sales of single-family residences and asks builders to characterize the sales as "good," "fair," or "poor."  It also asks the builders to rate the traffic of prospective buyers as "high to very high," "average," or "low to very low."
Article continues below advertisement
An index level of 50 is considered neutral. The index peaked at 71 during the height of the housing bubble—late 2005—and bottomed at eight in early 2009. While the index has been steadily rising in the years since it bottomed, it has begun to accelerate.
Homebuilder sentiment drops for the second month in a row after hitting a post-bubble peak
The index came in at 55—the second time since peaking in July. While we will hear from the rest of the builders shortly, both KB Home (KBH) and Lennar (LEN) noted a drop-off in traffic, which was considered a function of higher house prices and higher borrowing rates.
Given the strength of second quarter earnings, this report isn't a surprise. Lennar (LEN), KB Home (KBH), Toll Brothers (TOL), Ryland (RYL), and Meritage (MTH) all reported strong earnings. The NAHB is forecasting a 29% increase in housing starts this year.
Shortages of skilled labor have been a problem for the homebuilding industry as well as the mortgage industry. Since the bubble burst, employment in these sectors dropped so dramatically that many skilled workers found jobs in other sectors of the economy. Skilled construction workers were absorbed by the energy sector and trucking.
Builders noted the shutdown and the impending debt ceiling have depressed consumer confidence, and this is flowing through to traffic. All of the sub-indicators fell.
Implications for homebuilders
Homebuilders are in a better position than the smallest construction firms in that they have easy access to credit. Last fall, Toll Brothers (TOL) priced a senior convertible bond offering on amazingly easy terms—a 50 basis point coupon, a conversion premium of 50%, and a 20-year maturity. Those terms were unheard of—even in the go-go credit days of the housing bubble, no one was issuing 20-year paper with a negligible coupon at a 50% conversion premium.
Despite the sentiment index, some builders reported that the increase in interest rates has had a negative effect on orders. PulteGroup (PHM) and Beazer (BZH)—both geographically diversified builders with a focus on the first-time homebuyer—reported decreased traffic.
The increase in consumer sentiment is starting to drive more business for homebuilders. Housing starts have been so low for so long that there's some real pent-up demand that will unleash as the economy improves. The Homebuilder ETF (XHB) rallied on the news. As the job market improves, the first-time homebuyer should re-appear, which would create a wind at the back of the homebuilders.