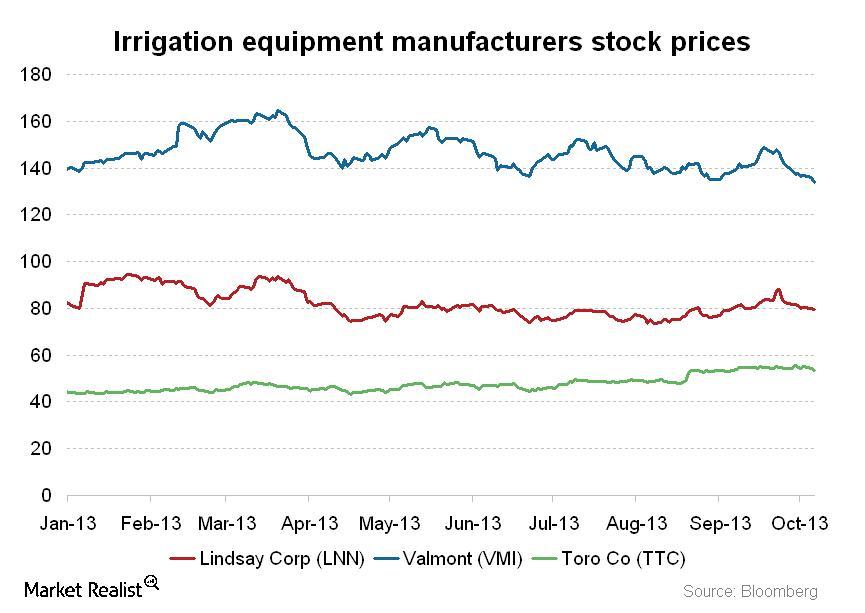 Opportunity: Global water irrigation's long-term growth
By Samuel Madden, CFA

Oct. 29 2019, Updated 4:50 p.m. ET
The modernization of irrigation equipment in the U.S. and around the world is one of the more compelling (and investable) secular growth stories out there. Some further details around the industry and players can be found in my Lindsay Corp (NYSE: LNN) IB report from back in September 2012, but let's focus on the industry alone for the purposes of this week's IB Thought.
The United States
There are approximately 406 million acres of total cropland within the U.S. today, with only 55 million acres (or 14%) of this cropland irrigated with mechanized equipment. As a background, there are three main irrigation methods used around the world today:
Article continues below advertisement
Gravity flow irrigation – Essentially pumping water onto crop fields, and letting the water flood the land and sink into the soil. Although this method needs limited upfront investment because the infrastructure is quite primitive, the downside is much water is lost through evaporation during the process, excess water typically drowns portions of the crops, and overall yields are lowest using this archaic method.
Central pivot irrigation – This process involves large sprinkler systems that rotate in a circular format above the crops, sprinkling measured amounts of water across the irrigated fields. This is the most popular process for farmers today as although it costs an upfront investment, crop yields are among the highest and the Pivot method can be used on mostly all types of farmland.
Drip/Micro irrigation – This the most expensive type of equipment used by farmers as this process entails a large amount of piping and small sprinklers which wind through cropland delicately dripping small amounts of water next to the physical root of each specific crop. This process typically has the highest yields out of other methods. However, the upfront investment is extremely expensive (~3x more than Pivot), and the process can only be used on a certain types of crops (e.g., grapes, vine crops).
When I began digging into the irrigation industry last year, I was shocked to find that not only is just 14% of U.S. farmland equipped with some type of irrigation equipment, but of that 14%, only 50% of this irrigated land uses the Pivot method. A whopping 43% of farmers still use Gravity Flow. This is occurring at a time when water conservation is becoming a bigger issue across America (think summer 2012's historic drought), especially as 45% of water used in the U.S. goes to the agriculture industry.
A breakdown of U.S. irrigated land by region is as follows:
Article continues below advertisement
 

 

 

Of Total Irrigated U.S. Acreage:

Region

Total Cropland
(acres)

% Irrigated

% Pivot Method

% Gravity Flow

% Drip / Micro Method

New England

1,204,682

3.3%

18.5%

1.8%

7.4%

Mid-Atlantic

9,745,254

3.2%

67.9%

1.8%

10.4%

South Atlantic-Gulf

18,837,093

13.6%

43.1%

21.0%

26.2%

Great Lakes

18,471,204

3.9%

79.7%

0.7%

5.5%

Ohio

32,065,465

1.0%

90.2%

2.6%

1.7%

Tennessee

3,979,000

1.0%

61.8%

0.0%

11.8%

Upper Mississippi

65,034,727

2.1%

94.0%

2.3%

0.2%

Lower Mississippi

19,061,586

38.5%

21.6%

78.9%

0.1%

Souri-Red-Rainy

20,862,502

0.8%

91.3%

8.9%

0.0%

Missouri

110,542,226

12.5%

68.6%

29.8%

0.2%

Arkansas-White

45,423,789

11.9%

77.5%

22.8%

0.6%

Texas Gulf

24,688,655

14.2%

72.3%

23.5%

4.5%

Rio Grande

2,335,913

46.2%

37.6%

61.2%

3.6%

Upper Colorado

1,976,053

68.8%

14.4%

76.2%

0.2%

Lower Colorado

1,370,883

68.3%

11.0%

88.2%

5.8%

Great Basin

2,505,818

63.8%

27.2%

58.3%

0.2%

Pacific Northwest

18,489,504

37.1%

47.3%

25.8%

3.5%

California

9,566,691

77.8%

3.1%

56.7%

31.4%

Total

406,161,045

13.5%

50.4%

42.6%

7.1%
Source: USDA Farm & Ranch Irrigation Survey
International
The international market presents an even bigger opportunity for advanced irrigation penetration. There are about 563 million acres of irrigated land across the rest of the world, with India and China making up almost 50% of that irrigated acreage. The USDA estimates that 91% of this land is irrigated using Gravity Flow methods. Only about 9% of the land has sprinkler systems in place to water crops. So not only in this market do you have the need (just like in the U.S.) to grow the amount of actual irrigated acres, but you have just 9% of the irrigated land actually using some type of advanced equipment. Not to mention within developing nations, about 70% of water is used for agriculture needs (versus 45% for the U.S. and developed nations). It is not a mystery how China and India crop yields are less than half that of the United States.
Catalysts and Next Wave of Growth
Article continues below advertisement
As evidenced by global players such as Lindsay and Valmont (NYSE: VMI), demand for advanced irrigation equipment is currently growing at a rapid pace. Despite a solid growth trajectory already, I believe a new wave of growth is on the horizon with the help of 3 growth pillars that will gradually come into play around the world:
Extreme weather drives farmer insurance: In both developed and developing regions, farmers are beginning to come to realization that weather patterns are becoming more extreme, and they cannot simply rely on Mother Nature to hydrate crops. As evidenced by 2012's global drought, more and more farmers are putting up the initial capital investment to protect their crops from drought spells. As more extreme weather hits farmlands around the world, farmers will be driven to modernize their acreage in order to ensure crop growth and to protect their own financial condition.
Government intervention: Water conservation and usage is just beginning to become a talked about issue around the world and especially within the U.S. However, water costs for American farmers are practically nothing. This does not motivate farmers to limit the usage of wasteful processes (such as Gravity Flow) on their land. It is unfortunate, but sometimes it takes instances like a major drought to wake up local governments in order to put policies in place to encourage the agriculture industry to start conserving its water usage. Simply by analyzing the trajectory of population growth and water demand versus current water supply, this government intervention will inevitably occur; it's simply a matter of when.
Global growth: As developing countries continue their high population growth, and as economies continue to grow, so will middle class citizens. With this growth brings bigger and healthier appetites, necessitating the need for more crops and protein-based foods. Some emerging countries are already strained with regards to feeding their citizens. Countries like China, India and Brazil have a long ways to catch up to U.S. crop yields in order to feed their growing populations. To increase crop yields, farmers need access to more efficient fertilizer use and watering processing. Farmers will eventually drift towards more effective methods such as Pivot technology in order to meet the needs of this growing demand.
The Market Realist Take
Companies in this industry are seeing growth due to increased demand resulting from higher commodity prices and farm incomes along with strong demand in international markets. Drought conditions in 2012 led to an increase in commodity prices, showing the importance of efficient mechanical irrigation and driving up demand for irrigation equipment. The demand for this equipment in the near future would be determined by farmer sentiment based on weather conditions, commodity prices, a strong economy that supports agriculture, and government encouragement for water conservation projects. In the long term, demand for irrigation equipment driven by population growth and the global scarcity of fresh water will help modest expansion for companies like Lindsay Corp (LNN), Valmont (VMI), and Toro Co (TTC) that sell irrigation equipment. Scarcity of agricultural resources should also be positive for the VanEck Vectors Agribusiness ETF (MOO), and the PowerShares DB Agriculture Fund (DBA) in the long term.