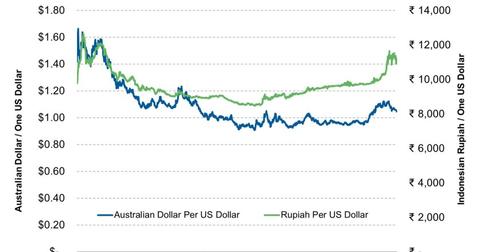 Essential fertilizer trends: Currencies impact prices and stocks
By Xun Yao Chen

Updated
Why Australian and Indonesian currencies affect fertilizer price
The currency movements of major coal-exporting countries can have a major influence on nitrogenous fertilizers. When the currency of an exporting country like Australia and Indonesia depreciates, it can have a negative impact on fertilizer prices. Conversely, when the currencies of the two exporters are rising, they could have a positive impact on fertilizer price.
Overall depreciation (weakness) in Australian and Indonesian currencies
Article continues below advertisement
The Australian dollar and Indonesian rupiah have been falling since earlier this year on the back of weaker fundamentals and outlooks in emerging markets. That meant lower demand for the Australian and Indonesian currencies. Ben Bernanke's announcement of possible tapering this year, which occurred in May, added another reason for investors to leave foreign markets.
While coal prices were falling, weaker currencies helped exporters
While coal prices were falling, weaker Australian and Indonesian currencies actually helped their domestic producers that export coal to other countries. Because coal trades on the US dollar, a weaker currency to the US dollar means more revenue in domestic currencies, which creates less of an incentive to reduce supply.
Currency showing some strength lately
Lately, the Indonesian rupiah has been moving sideways, while the Australian dollar has strengthened, as China's economic growth appears to be stabilizing and the US postponed its tapering. On October 17, $1.03 Australian dollars was exchangeable for $1 US dollar, while 11,125 rupiah could trade for $1 US dollar. The more an investor has to trade foreign currencies for a US dollar, the weaker the currency is.
Stronger currencies mean higher fertilizer prices
If the Australian dollar and Indonesian rupiah continue to strengthen from here, they will likely reflect better fundamentals in emerging markets and coal demand. As coal is largely used in China to produce urea, a rise in coal price will have a positive effect on global urea prices, which were negatively affected by lower thermal coal prices this year. Higher urea prices would have a positive impact on CF Industries Holdings Inc. (CF), Potash Corp. (POT), Agrium Inc. (AGU), Terra Nitrogen Company LP (TNH), and the VanEck Vectors Agribusiness ETF (MOO).