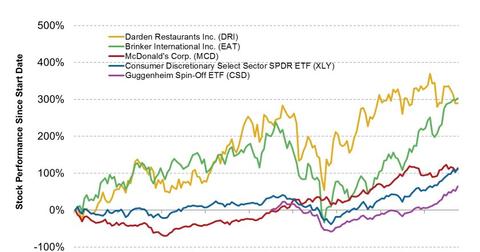 Darden analysis: Why spinoffs outperform the market by 10%
By Xun Yao Chen

Updated
Why is Barington Capital Group proposing a spinoff?
Barington Capital Group is encouraging Darden Restaurant Inc. (DRI) to split its brand because the firm believes that the restaurant conglomerate simply has too many layers and brands to manage that it's likely hindering Darden's competitive responsiveness rather than facilitating it. A spin-off, the investment firm says, will streamline Darden and make its brands more competitive again amid market changes and the company's poor stock price performance.
McDonald's underperformance during acquisition and outperformance after divestiture
Article continues below advertisement
To support the idea, the hedge fund draws on previous data. When McDonald's Corp. (MCD) acquired Chipotle, Donato, and Boston Market from 1998 to 2000, share prices mostly moved sideways. But when McDonald began selling those acquisitions from 2003—a divestiture of Donato's Pizza in 2003, an IPO of Chipotle in 2006, sale of Boston Market in 2007, and Pret A Manger in 2008—the company's stock price grew from $25 to its recent price of $100 a share. While there are numerous other factors that come into play, MCD's gradual outperformance against the Consumer Discretionary Select Sector SPDR ETF (XLY) is no coincidence.
Brinker CEO says managing a portfolio is difficult
Brinker International Inc. (EAT) also followed a similar strategy, selling off six brands over the past ten years to focus on its existing brands—Chili's and Maggiano. Since the company disposed of On the Border Mexcian Grill & Cantina on June 30, 2010, the shares of EAT have appreciated over 205% as of September 20, 2013. As Brinker's CEO, Doug Brooks, mentioned, "The market makes managing a portfolio much more difficult. It's hard enough to have one business that's really successful."
Spinoffs outperform
Article continues below advertisement
While these are examples that Barington Capital Group LP had provided, and the firm mostly talks about how the parent companies, MCD and EAT, have performed after spinoffs, spinoffs in general could be every investor's opportunity to beat the market. A study done at Penn State has found that spinoff companies have outperformed the S&P 500 by 10% every year in the first three years of their independence for the 25 years of study until 1988. The parent companies also do well, with 6% outperformance each year. If nothing has changed since then, then investing in spinoffs should still generate higher returns for investors overall.
Why spinoffs outperform
In the book You Can Be a Stock Market Genius written by Joel Greenblatt (one of the best hedge fund managers in history, who focuses on special situations and value investing), the author explains that spinoffs tend to outperform because a spinoff is an inefficient method of distributing stock to the wrong people. Plus, "when a business and its management are freed from a large corporate parent, the combination of accountability, responsibility and more direct incentives" are sources of motivation and entrepreneurial forces that drive company performance.
While spinoffs generally outperform, Greenblatt recommends investors do some research and analysis on companies to find the best opportunities. Indeed, the Guggenheim Spin-Off ETF (CSD), which is an ETF designed to invest in spinoffs, hasn't performed as well as the XLY since its inception in 2007.
Will Darden Restaurants Inc. (DRI) be one of those stocks that just might outperform the market? Let's find out.