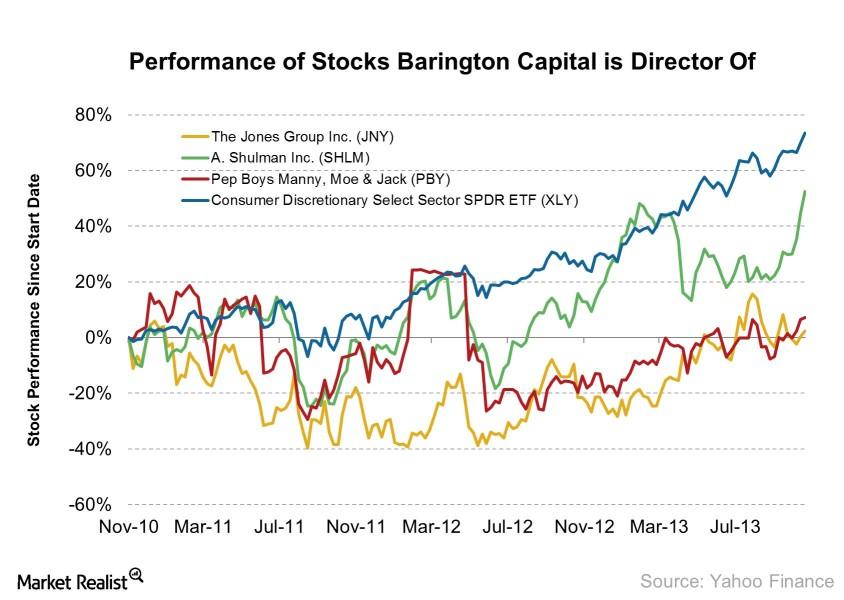 Darden analysis: Must-know background on Barington Capital Group
By Xun Yao Chen

Nov. 21 2019, Updated 9:16 p.m. ET
About Barington Capital Group
So what is Barington Capital Group, which has been recommending Darden Restaurant Inc. (DRI) break up? It turns out the hedge fund has been around since 1992 and invests in undervalued publicly traded companies that it believes could generate significant return as a result of a change in corporate strategy or various operational, financial, or corporate governance improvements.
Founder: James Mitarotonda
Article continues below advertisement
The company's CEO and founter, James A. Mitarotonda, started off his career by gaining hands-on experience operating retail as well as financial services businesses through participation in retail management at Bloomingdale's and Citibank. Bloomingdale's is an upscale department store chain owned by Macy's, while Citibank is the consumer banking division of Citigroup. Mitarotonda participated in the company's retail management executive training program at Bloomingdale's, and held positions in the retail bank as a branch manager in New York, eventually as head of New York Home Equity Financing and Credit Services, at Citibank.
Following his work at Citibank, Mitarotonda spent four years at an investment banking, brokerage, and securities trading firm and went on to co-found Commonwealth Associates in 1988, and then Barington Capital Group in 1992. He currently serves as a director of the Jones Group Inc. (JNY), A Shulman Inc. (SHLM), and the Pep Boys Manny, Moe & Jack (PBY).
Investment style and performance
Historically, Barington Capital Group's major activist movements have related to replacing poor management or management structure, excessive executive pay, unfair acquisitions, or spin-offs. The companies that Mitarotonda directs haven't performed that well overall. But, as a value investor, this is normal because value-based investments typically take longer to deliver solid performance compared to growth companies. Besides, if these companies were doing well, then there wouldn't be a need for an activist hedge fund's involvement.
While the hedge fund's annual performance isn't widely available, the mere fact that it's still around since 1992 suggests the fund hasn't done poorly. Although the investment firm's Barington Equity Partners LP fund's year-to-date performance has only been 5.65% net of fees, it still beats the average hedge fund in the CISDM Equal Weighted Hedge Fund Index's 4.63%.
Following through with the plan
If there's one thing you can be pretty sure about the company and its founder, it's that they will follow through with what they've started or at least initiate some change at the company. In almost every activist case we've seen so far—from Ameron to Dilliard to Steve Madden to JNY Jones Group to Pep Boys—they've been successful at influencing companies to replace CEOs, elect specific members to the board that would help provide insight, increase dividend payouts, and lead spin-offs. This increases the likelihood that Darden will undertake a spinoff sometime down the road.