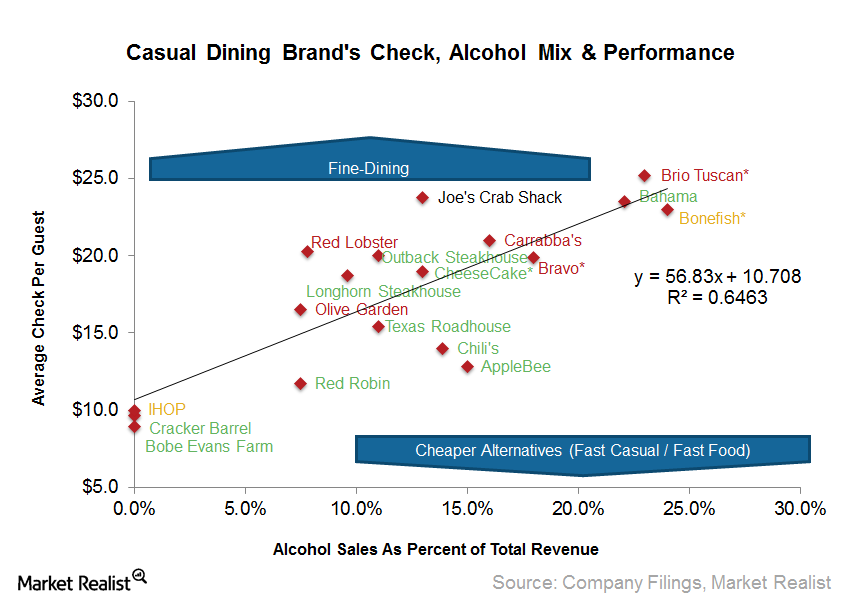 Darden analysis: Why lower average checks are outperforming
By Xun Yao Chen

Dec. 4 2020, Updated 10:52 a.m. ET
Adding a little bit of spice to the chart
After compiling a list of Darden's core competitor brands, which include Bravo Brio Restaurant Group Inc. (BBRG), Bloomin' Brands Inc. (BLMN), Cheesecake Factory Inc. (CAKE), Texas Roadhouse Inc. (TXRH), Ignite Restaurant Group Inc. (IRG), Brinker International Inc. (EAT), and Dine Equity Inc. (DIN), we've added a few more casual dining stocks to get a picture of which brands are outperforming and underperforming in the restaurant industry.
Article continues below advertisement
We've included Cracker Barrel Old Country Store Inc. (CBRL) and Bob Evans Farms Inc. (BOBE), which serve homestyle or family-style food (no alcohol, of course), generate less than $10 per guest meal, and receive a more even distribution of guest count throughout breakfast, lunch, and dinner. We also threw in Red Robin Gourmet Burgers Inc. (RRBG), a casual dining restaurant.
Color-coding each brand's performance
The chart above shows the average check per guest by alcohol sales. This time, though, we've color-coded the brand names based on how the stock or restaurant's comparable sales have performed over three quarters, up to around June 2013. Green colors represent solid stock price appreciation or average same store growth of above 1%, while yellow reflects 0% to 1% average same store growth. Red depicts underperformance against the S&P 500 (SPY) or negative same-store sales. Black is excluded due to minimal data.
Higher alcohol sales accommodated by higher average check
Article continues below advertisement
We drew a line of best fit between the companies to illustrate the relationship between average check and alcohol sales. An R2 figure of 0.64 shows there's a pretty strong relationship between alcohol consumption and check per guest: the more a customer's order is made up of alcohol, the higher the check.
Lower average check per guest is outperforming
The picture above shows a divide in performance between brands that generate higher average check per guest and those that offer meals at cheaper price points. Brands that stand below the linear trend between average check per guest and alcohol sales as a percent of total revenue have pulled in solid performance over the past few quarters. Conversely, those above or near the trend line have done alright, and sometimes poorly.
Is Italian food losing popularity?
It appears that Italian restaurants have performed poorly for the three quarters up to June 2013. Brands like Outback Steakhouse, Longhorn Steakhouse, and Texas Roadhouse, which focus on steak, continue to pull in solid growth. While the Cheesecake Factory has an average check per guest that's above the trend line, it's often perceived as an upscale full-service casual dining experience rather than casual dining. Plus, it does generate a higher percent of its revenue from desserts.