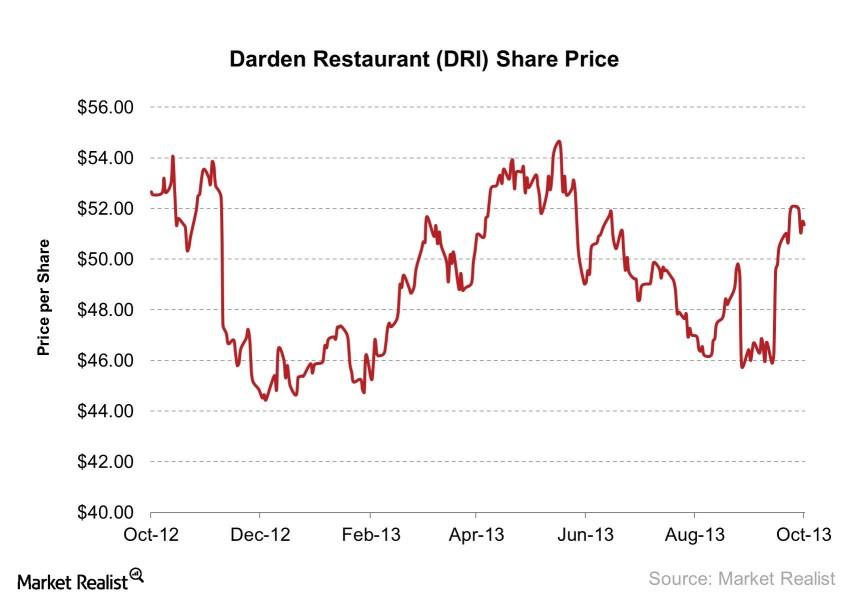 Darden analysis: Assessing the success of a Darden brand spinoff
By Xun Yao Chen

Dec. 4 2020, Updated 10:53 a.m. ET
Activist investment drives share prices 10% higher
Darden Restaurants Inc. (DRI) has jumped more than 10% since the Wall Street Journal mentioned that activist hedge fund Barington Capital Group took a 2.8% stake in Darden on October 9, calling for Darden to split itself in two: its Olive Garden and Red Lobster brands in one company, and its LongHorn SteakHouse and other Specialty Restaurant brands in the other.
On October 17, the investment firm released the letter that it had sent to the Board of Directors of Darden Restaurants Inc. (DRI) on September 23, 2013, explaining the recommendations that the firm had shared with the senior management team in June 2013.
Hedge fund recommending a split
The hedge fund recommends that a split would help management focus on the unique requirements of the different restaurant chains. The investment firm also said that Darden can unlock further value if it sells its real estate assets.
Article continues below advertisement
If the two recommendations are implemented, the investment firm said Darden shares would trade between $69 and $76, which is an increase of ~40% in share price from $51.82 a share on October 21, 2013. A further increase in operating efficiency would drive returns closer to 100% over one, two, or three years (but more on that later).
Dialogs have been positive
This sounds like an opportunity. Will Darden go through with the recommendation? So far, dialogs have been encouraging. As stated in the letter, Barington Capital Group noted, "We have been encouraged by the interest they [the senior management team] have shown in our recommendations and our ongoing constructive dialogue, and we look forward to our next meeting with them on September 27 in Orlando."
Darden hires Goldman Sachs to evaluate
USA Today reported on October 17 that Darden had hired Goldman Sachs to help evaluate Barington's proposal. While neither companies would comment, the mere fact that Darden has hired an investment bank to assess the hedge fund's proposal more or less says management is excited or interested.
Case study
In a previously published Market Realist series, "Why Darden's dividend yield of 4.74% faces share price risk" on September 30, we casually mentioned that management would likely spin off some brands sometime down the road to be more competitive. In this series, we'll explain who Barington Capital Group is, why are spin-offs attractive, what Darden's brands and strategies are, how the company has been performing, whom it competes against, how its management structure and culture work, whether a split is positive, and what other analysts are saying.
Other notable companies that we'll discuss in this series include Bravo Brio Restaurant Group Inc. (BBRG), Texas Roadhouse Inc. (TXRH), Brinker International Inc. (EAT), Bloomin' Brands Inc. (BLMN) and Cheesecake Factory Inc.(CAKE), which we believe are Darden's main peers. The analysis that we'll be showing will not only lead to a potential investment opportunity, but also how to analyze a publicly traded company's stock from multiple dimensions to understand what is happening, and to make better investment decisions in the future. Investors looking to invest in spin-offs can use the Guggenheim Spin-Off ETF (CSD).