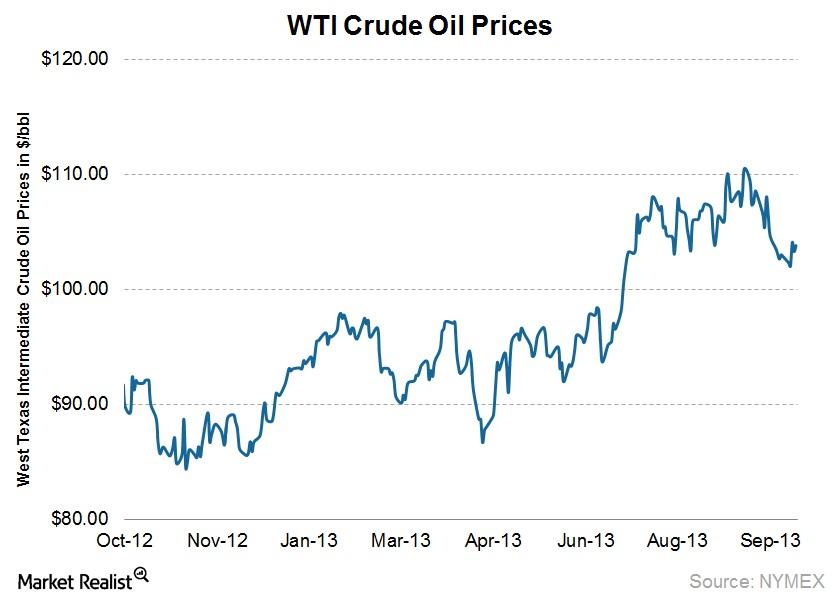 Crude oil prices affected by federal shutdown, storm, and stocks
By Ingrid Pan

Oct. 11 2013, Updated 12:18 p.m. ET
Oil prices are a major valuation driver for energy stocks
West Texas Intermediate (WTI) crude (priced at Cushing, Oklahoma) is the benchmark crude for US oil. So movements in WTI oil prices are a major driver in the valuation of domestic oil producers. Higher oil prices also incentivize producers to spend more money on drilling, which results in increased revenues for oilfield service companies (companies that provide services such as drilling, fracking, and well servicing). Consequently, WTI prices are an important indicator to watch for investors who own domestic energy stocks.
WTI crude had mixed trading sessions last week given fears around the US government shutdown, storm activity in the Gulf, and drawdowns of inventories at Cushing
Article continues below advertisement
Last week, West Texas Intermediate (WTI) crude oil prices were up slightly, as WTI finished at $103.84 per barrel on Friday, October 4, compared to $102.87 per barrel a week earlier. Oil prices were pulled in different directions over the week due to a variety of factors. Markets feared that a prolonged shutdown of the US government could hamper crude demand, primarily due to less gasoline demand from workers remaining at home. This fear had a negative pull on oil prices. Positively affecting oil prices were fears that tropical storm activity in the Gulf of Mexico and Gulf Coast area could hamper production in the area, as tropical storm Karen had appeared to be on course to make landfall in the region. Lastly, reported oil inventories last week were higher than expected, but inventories at Cushing (where WTI crude is priced) continued to decrease.
Plus, TransCanada reported that in a few weeks, the southern portion of the Keystone XL pipeline would begin operations, which would serve to move crude away from Cushing towards refiners and seaborne markets, implying increased demand for the benchmark crude and helping to bolster prices. See Crude inventories build but falling stocks at Cushing support WTI for more background.
Note that WTI more represents the price producers receive in the US, and there's another benchmark for crude called Brent, which more represents the price producers receive internationally. For more on the price difference between the two benchmarks, please see Must-know: WTI continues to trade slightly wide of Brent. As the domestic benchmark, WTI prices matter more for domestic companies such as Chesapeake Energy (CHK), Range Resources (RRC), EOG Resources (EOG), and Pioneer Natural Resources (PXD) than for companies with significant international exposure, where Brent prices might be more relevant to watch.
Oil prices have remained relatively high and stable, supporting energy company valuations
Article continues below advertisement
For most of this past year, WTI crude oil has been range-bound between ~$85 per barrel and ~$110 per barrel. As we've seen, higher crude prices generally have a positive effect on stocks in the energy sector. The below graph shows WTI crude oil price movements compared to XLE and EOG on a percentage change basis from January 2007 onward. You can see that crude oil, the XLE ETF, and EOG (one of the largest US-concentrated companies in the energy space) have largely moved in the same direction over the past several years.
As demonstrated in the graph above, crude oil prices are a major driver in the valuation of many energy investments. Oil prices affect the revenues of oil producers, and consequently affect the amount of money oil producers are incentivized to spend on oilfield services.
So this past week's slight movement upward in prices was a small positive for the sector. Oil prices over the past few months have remained elevated above $100 per barrel, which is a medium-term positive. Lastly, the longer-term stable and elevated price of oil has been positive. Investors with domestic energy holdings in names such as CHK, EOG, RRC, or PXD may find it prudent to track the movements of benchmarks such as WTI crude.