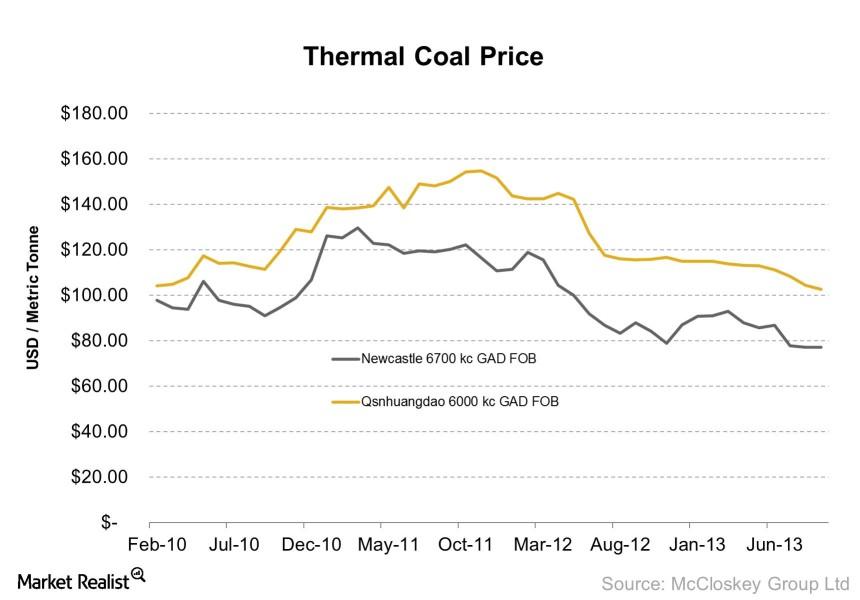 Coal prices bounce, positive for nitrogenous fertilizer companies
By Xun Yao Chen

Nov. 27 2019, Updated 12:59 p.m. ET
Coal prices' significance to the fertilizer industry
While most of the world uses natural gas as an input, 80% of China's plants use coal to produce nitrogen-based fertilizers like urea and ammonia. As one of the costlier producers of the fertilizer used to support plant growth, fluctuations in coal prices can have a significant impact on global prices. The higher the coal price, the better it is for other fertilizer producers that don't use coal.
Coal prices rose in September 
Article continues below advertisement
The coal industry has been one of the worst performers in the global equity market this year. Companies like Peabody and Alpha Natural Resource have performed poorly in the wakes of increased supply from Australia and Indonesia and weak electricity consumption growth during the first half of the year in China.
At the end of September, however, we saw some stabilization in coal prices. Prices for thermal coal at Newcastle Australia, a benchmark for world coal prices, have stood at $77.1 per mt (metric tonne) throughout July and August, but rose to $78.3 per mt at the end of September. Recent developments appear to be driven by improvements in economic activity in Europe and Asia, and lower supply increase.
Could coal prices be finding a bottom?
A recent article by WSJ titled "Chinese demand for coal cooling" explains that China's demand for thermal coal is waning because of a push towards a greener environment. As a result, producers (particularly in Australia, which is the second largest thermal coal exporter) are scaling back plans. A plan to double capacity at Newcastle port, the world's largest port, has been put off. Analysts also predict most expensive existing mines to cut back on output or close.
Article continues below advertisement
While the United States and China are cutting back, the IEA (International Energy Agency) expects coal to drive energy consumption for Southeast Asian countries over the next two decades. That estimate assumes coal prices to be ~30% cheaper than gas in the region. If coal prices stay at $80 per mt, the IEA expects a natural gas cost of $10 per million British thermal units.
The futures curve is upward-slopping
One way to assess whether coal is expected to rise is through a futures curve. This is a curve that depicts the price that buyers, sellers, and traders of coal are willing to negotiate at specific dates in the future. Coal prices for December contracts recently exchanged at ~$82 per mt). That figure is expected to rise in 2014. An upward-sloping curve, when near-dated prices are priced below future prices, suggests that the industry expects coal prices to rise. Conversely, when the curve is downward-sloping, it reflects an expectation of lower prices.
If coal prices do stabilize here, they will have a positive effect on global nitrogen-based fertilizer prices. Higher fertilizer prices will have a positive impact on the selling prices and revenues of manufacturers like CF Industries Holdings Inc. (CF), Terra Nitrogen Company LP (TNH), Agrium Inc. (AGU), and, to a much lesser extent, Potash Corp. (POT), holding everything else constant. This also applies to the VanEck Vectors Agribusiness ETF (MOO), if the market hasn't priced in this potential move and analysts' earnings estimates aren't too optimistic.