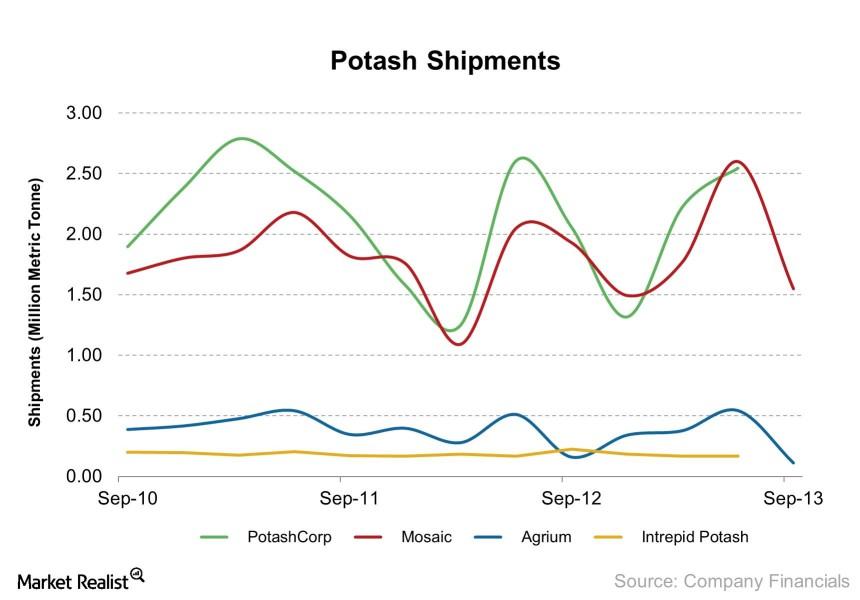 Why weak 3rd-quarter potash sales volume will only be temporary
The importance of sales volume
Companies' sales and earnings revisions often have significant impact on share prices. Sometimes companies will announce revisions before earnings calls if they're significant. When earnings are expected to be worse than initially mentioned, share prices can take a hit. Conversely, when management releases upbeat revisions, share prices often jump.
Companies revising sales volume down
Article continues below advertisement
Several companies have been announcing pricing and volume cuts in the potash industry. These include Mosaic Co. (MOS), which lowered volume guidance from 1.8 to 2.0 million to 1.45 to 1.65 million on September 17. Realized prices were revised downward to between $330 and $340 per mt (metric tonne), which is a drop from the average price of $368 per mt recorded for the second quarter of this year. Although Agrium Inc. (AGU) didn't comment on price changes, sales volumes are expected to be as much as 30% lower than a year ago on September 23.
Uncertainty over Uralkali and Belaruskali paralyzing purchases
Sales volume is likely dropping because of the uncertainty regarding future prices of potash following the partnership breakup between Uralkali and Belaruskali. As Wayne Brownlee, executive vice president and CFO of Potash Corp. (POT), recently noted, "What we've seen in the last month is we have seen very little volume move. In the offshore market, volume has been essentially paralyzed. To the extent that there is any volume, it's moving on contingent pricing. But we haven't seen aggressive market moves by anybody. And the customer base… when they are not sure about what's going to happen, their first concern is I don't want to write down inventory, so I'm not going to buy because I don't want to have that risk. If I do have inventory, I want to work through that as quickly as I can."
Current weakness is a long-term positive
Although the announcements have negatively impacted share prices, and share prices could still be negatively affected when earnings are released in a few weeks, the likely effect of lower sales volume is only going to be temporary or short-term. Eventually, buyers will have to come back to purchase potash as the new planting season begins.
What farmers don't buy today they will eventually buy in the future. This is medium- and long-term positive for the sales volumes of potash producers like Potash Corp. (POT), Agrium Inc. (AGU), and Mosaic Co. (MOS) that have a presence in the offshore market. This is also positive for Intrepid Potash Inc. (IPI), which might be a little negatively affected by uncertainties in the market. This would also be positive for the VanEck Vectors Agribusiness ETF (MOO) if it isn't priced in.