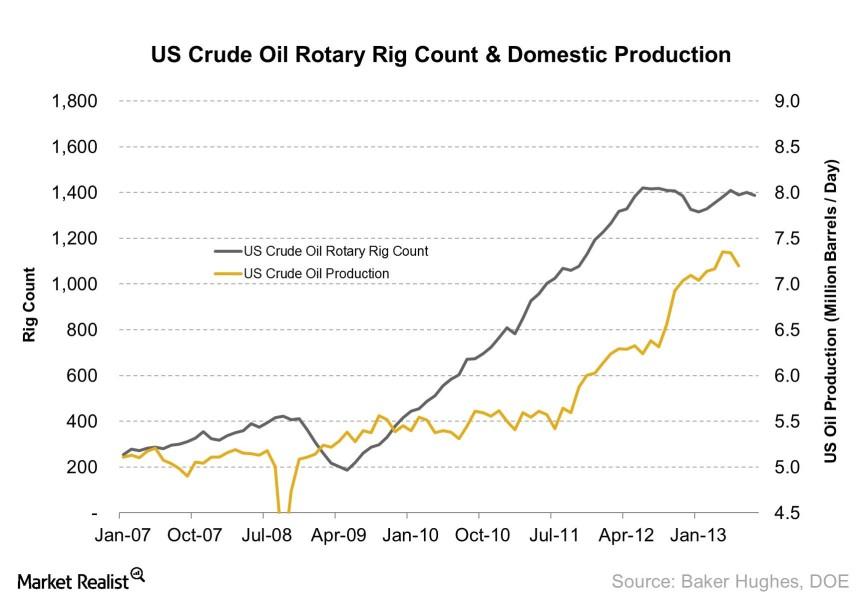 U.S. oil production could slow in 2014, benefiting crude tankers
Oil rig count and oil production
The effect of increased oil drilling activity in the United States is most transparent when compared to the United States' crude oil production. Higher drilling activity leads to more domestic production, which could lead to lower oil imports. So a rising or a steadily high rotary rig count is negative for crude tanker demand.
Oil rig count driving oil production
Oil rig count has been rising in the United States since 2007 as companies began to exploit hydraulic fracturing and horizontal drilling to extract oil from U.S. ground. After successful trials and the resolution of the financial crisis, the rig count in the United States had taken off. While there's slight lag between rig count and oil production, oil production rose.
Article continues below advertisement
Oil production in the United States only stood around 5.5 million barrels a day before 2011. Yet the level of oil production was still close to 10% higher than it was before the financial crisis in 2008–2009. Oil production stood at 7.2 million barrels a day in June 2013, according to the U.S. DOE (Department of Energy).
Oil production remains in an uptrend
June's output was slightly lower than the previous month's, but the uptrend remains. Because the Department of Energy publishes production data with a lag of approximately two months, the data is most useful to investors on a long-term basis. You can also use the data to confirm an uptrend in U.S. oil output.
While rotary rig counts haven't been rising since April 2012, with rig count staying at 1,388 at the end of August 2013, it's important to note that the rig count doesn't directly translate to the level of oil output. Instead, it's a leading indicator of incremental production. So even a high rig count can drive oil production higher. In the future, however, investors will have to factor in how fast oil wells are drying up, which can cut into oil production.
Growth could slow down in 2014
As oil production appears to be lagging oil rig count by two to three years, U.S. oil production growth could start to show signs of slowing in 2014. That could be positive for demand for crude tanker companies such as Teekay Tankers Ltd. (TNK), Frontline Ltd. (FRO), Nordic American Tanker Ltd. (NAT), and Teekay Corp. (TK). It would also positively affect the Guggenheim Shipping ETF (SEA) that partially invests in crude tankers in the long term. Nonetheless, short-term fundamentals continue to look negative, and the expected increase in off-shore drilling could still negatively impact tanker demand.