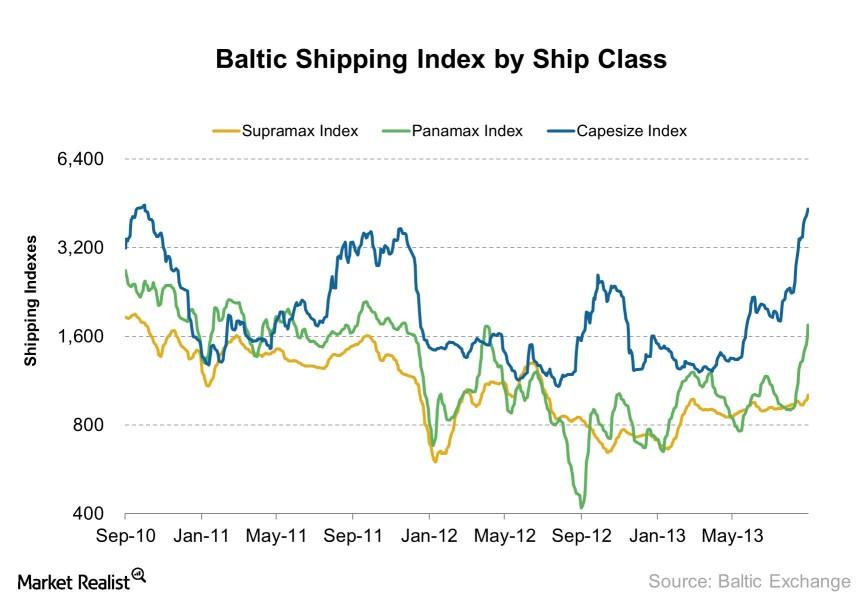 Shipping rates maintain upward momentum, positive for shares
By Xun Yao Chen

Nov. 21 2019, Updated 9:09 p.m. ET
Shipping rates haven't lost momentum
Shipping indexes (rates) haven't lost momentum despite analysts' cautions. The Baltic Dry Index for Capesize vessels stands at 4,329, for Panamax at 1,745, and for Supramax at 1,012 as of September 25, 2013. As the below chart shows, rates for Panamax vessels have been rallying alongside Capesize vessels since August, while Supramax vessels appear to be gaining some momentum.
Why follow shipping indexes and rates?
Article continues below advertisement
The Baltic Exchange's Shipping Indexes are widely followed by analysts, money managers, shipping companies, and investors because they provide benchmark rates for transporting dry bulk commodities such as iron ore, coal, and grain across water. Higher shipping rates are generally positive for shipping companies' revenues, which will positively affect earnings, cash flows, and share prices.
Higher iron ore shipment driving rates higher
Dry bulk companies have been rallying recently on the back of higher iron ore shipments from Australia and Brazil, part of a larger shift in the global supply of iron ore. Major companies like Rio Tinto, BHP Billiton, and Vale are expected to add significant capacity and output throughout the rest of 2013 and in 2014. Analysts expect additional mining capacity to drive iron ore prices lower based on downward slopping forward contracts for iron ore, and to support rates for Capesize vessels (which shipping companies use primarily to haul iron ore and coal from countries in the Southern Hemisphere).
Article continues below advertisement
Even though supply growth remains elevated for Panamax ships, the increase in Capesize rates has prompted shipping companies to order two Panamax ships instead of only relying on Capesize vessels. While Panamax vessels are smaller than Capesize vessels, they're also used to haul iron ore and coal as well as grain. So we've seen Panamax rates skyrocketing as well.
Analysts have cautioned about a temporary setback
Capesize rates now stand above their 2011 peak, and Panamax rates could surpass them this year. Analysts have cautioned that such a rise could be only temporary and that the end of a seasonal uptick could negatively impact share prices in early 2014.[1. Shipping rates have historically risen during the second half of the year as shipments from the Southern Hemisphere rise.] However, historical trends show that the share prices of dry bulk shippers like DryShips Inc. (DRYS), Diana Shipping Inc. (DSX), Safe Bulkers Inc. (SB), Navios Maritime Partners LP (NMM), and Navios Maritime Holdings Inc. (NM) didn't really fall along with the overall decline in the Baltic Shipping Index.
In the short term, shipping stocks will hit several resistant levels (walls of worries and profit taking price points). This could negatively impact near-term share prices. But with rates expected to remain in an uptrend in 2014 and for most of 2015 because significant capacity won't be added until the end of 2015, shipping companies' long-term outlook remains positive.
I will update key indicators that affect shipping stocks on September 27, if not September 26, so be on the lookout.