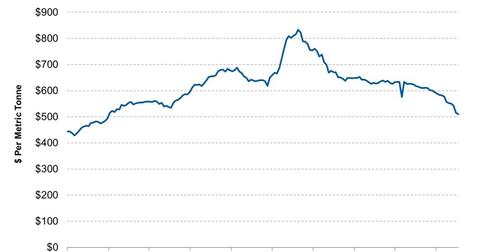 Retail urea falls sharply, maintaining a negative outlook
By Xun Yao Chen

Updated
Retail urea price in decline
Let's start with U.S. retail urea price. On September 13, U.S. urea retail price stood at $509 per metric tonne, according to DTN Energy. Just last week, prices were at $513 per mt (metric tonne), and at the end of August, they were $543 per mt. Persistently high corn prices in the United States were the likely reason for the relatively high prices, as farmers lock into forward contracts.
The significance of retail urea price
Article continues below advertisement
Analysts use retail urea price to assess how expensive nitrogenous fertilizers are to farmers. Because farmers are also concerned about making profits, fertilizer prices can alter farmers' purchase behavior. When fertilizers becomes cheaper, farmers will buy more. But when fertilizer prices become more expensive, they can deter purchases.
Plus, retail sales price is a key variable that affects the revenues of fertilizer retailers like Agrium Inc. (AGU), North America's largest farm retail supplier. And when retail prices are falling, they can also reflect lower wholesale prices at which major fertilizer producers like CF Industries Inc. (CF), Potash Corp. (POT), and Terra Nitrogen Company LP (TNH) can sell.
Quantity may be constant, but prices won't be
In Agrium Inc. (AGU)'s last earnings call, the company expected solid demand for the second half of this year due to "positive grower sentiment, strong nutrient removal this year and the affordability of crop nutrients." While that may be true, revenues should take a hit from lower sales price, especially since corn prices have fallen ~30% this year due to a record production outlook.
The relative prices of fertilizers sold at the retail level compared to corn also currently stand at a historical high of ~125 for all sorts of fertilizers. With corn prices unlikely to move much higher from here, retail prices have more room to fall. That could be substantial because a drop from the current level could be as much as another 15% from the end of August.
Impact on fertilizer companies
Article continues below advertisement
Increased supply out of China is also pressuring the prices of wholesale nitrogenous fertilizer, which should negatively impact retail prices as well, but more on that later. Even if farmers purchase more fertilizers, as the retail price of urea falls, the net impact will likely be negative. Besides, demand for nitrogenous fertilizers is less price-sensitive to other fertilizers such as potash and phosphate.
So, while relatively strong U.S. retail urea prices have supported Agrium Inc. (AGU) during the second quarter, these prices will likely remain low or in a downtrend for the remainder of the year. Agrium Inc.'s (AGU) share prices could be negatively affected if the market has yet to fully price in the downtrend.
Yet it's also important to consider that CF Industries Inc. (CF) received favorable pricing for its fertilizers because of early orders. This means if retail prices were to fall more, they could pressure the prices that wholesale producers—including Terra Nitrogen Company LP (TNH) and Potash Corp. (POT)—can sell at as well. The VanEck Vectors Agribusiness ETF (MOO) will also be negatively affected.