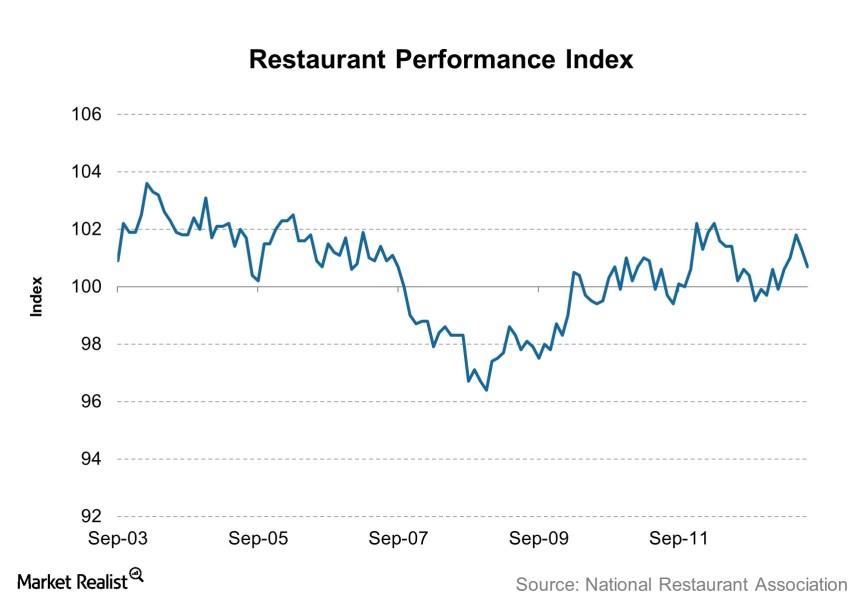 Why a soft restaurant performance index is negative for sales
By Xun Yao Chen

Oct. 29 2019, Updated 4:33 p.m. ET
Restaurant performance index falls in July
The RPI (Restaurant Performance Index) stood at 100.7 in July, down 0.6% from June's 101.3. The index is published at the end of every month by the National Restaurant Association and reflects the health and outlook of the U.S. restaurant industry over the previous month. Investors can interpret the decline in the index for July as a somewhat negative indicator for companies like McDonald's Corp. (MCD), Yum! Brands Inc. (YUM), Chipotle Mexican Grill Inc. (CMG), and Panera Bread Co. (PNRA).
Construction and interpretation of the index
Article continues below advertisement
The RPI is constructed so that the performance of the restaurant industry is measured relative to a steady state. Values over 100 indicate that the restaurant industry is expanding, while those below suggest the industry is possibly in contraction.[1. Some topics surveyed include same-store sales, traffic, labor, and capital expenditure.] So, when United States went into recession from 2008 to 2009, the RPI index fell below 100, and it reached as low as 96.5 at the end of 2008 before bouncing back up along with the share prices of several restaurant stocks.
A reason for July's soft data
July's soft data appears to be driven by customers allocating a larger portion of their money towards big purchases like cars, houses, and furniture, which has been a trend since May. With car sales strong in August, investors should be surprised if the restaurant performance index falls again when the August data is released at the end of September.
Effect on share prices
Since stock prices move based on current earnings and expected earnings, when the RPI (outlook) is rising, it bodes positively for stocks like MCD, YUM, CMG, and PNRA. When the RPI is falling, you can expect share prices to fall. But as long as the outlook holds above or around the steady figure of 100, investors can expect the overall restaurant industry's earnings to grow.
So we can interpret the declines we've seen in July as a short-term negative in a long-term positive for the companies we've mentioned, which may suggest a sideways trend for the shares mentioned above. But since the data is released with quite a bit of lag, investors may want to use it as more of a confirmation indicator rather than a leading indicator. August data for food retail sales and the service PMI, which can give some clue to investors regarding the prospects of current and future restaurant sales, are already out.
Effect on the consumer ETF
This outlook also applies to the Dow Jones Consumer Service ETF (IYC). Keep in mind, however, that the ETF also invests in other retail segments that could be performing well.