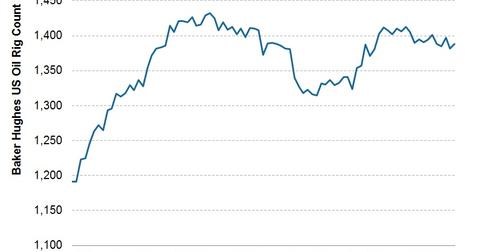 Oil rig counts remain elevated, but focus shifts to well counts
By Ingrid Pan

Updated
U.S. oil rig count trends depend on how much companies are willing and able to spend on drilling
Rig counts represent how many rigs are actively drilling for hydrocarbons. Baker Hughes, an oilfield services company, reports rig counts weekly. The company notes that rig count trends are "governed by oil company exploration and development spending, which is influenced by the current and expected price of oil and natural gas." So rig counts can represent how confident oil and gas producers such as ExxonMobil (XOM), ConocoPhillips (COP), Hess Corp. (HES), and Chevron (CVX) feel about the environment, as more rigs working mean more spending.
Oil rig counts rose last week
Article continues below advertisement
Last week, the Baker Hughes oil rig count increased from 1,382 to 1,388. Oil rig counts have largely been rising throughout 2013 and remain up 5% throughout 2013. The increase in oil rigs drilling could signal that oil producers are feeling more positive about the current oil price environment, as they're putting more capital to work to produce oil. WTI crude prices have remained elevated in the $105-to-$110-per-barrel range over the past few weeks, and have remained at high levels throughout 2013 ,supporting a high oil rig count.
However, oilfield service companies aren't overly bullish on U.S. rig counts for the rest of 2013
Most major oilfield service companies commented that they expect U.S. rig counts (inclusive of both oil and gas) to remain flattish for the balance of the year. Companies such as Halliburton (HAL) noted that the driver of this trend is a switch to pad drilling (drilling more than one well on a single well site), which requires fewer rigs running to drill the same number of wells. However, this doesn't translate into weak activity or a negative signal necessarily.
Article continues below advertisement
Halliburton noted, "In spite of a relatively flat sequential U.S. rig count, drilling efficiencies in the trend towards multi-well pads are driving a more robust well count." Producers are still eager to drill wells, and even if rig counts are flat, other services such as well completion are still needed, providing revenue to oilfield service names in the situation of higher well counts. See Higher well count and stage count helping U.S. fracking market for more. In recognition of this need, as a service, Baker Hughes has begun to report well counts alongside rig counts.
Are oil companies more positive about the current prices and operating environment?
This past week's slight increase in rig counts, in conjunction with the rise in oil rig counts so far this year, signals that oil companies are feeling positive about the current price and operating environment. Despite the fact that many see overall rig counts (oil and gas) to be flat for the balance of 2013, companies have commented that this is due to efficiencies, and well counts are still robust. The general consensus remains positive around the U.S. oil environment, but lackluster around the U.S. gas environment.
Note that more U.S. oil drilling is generally positive for companies across the energy spectrum with U.S. assets from producers (such as XOM, COP, HES, and CVX, as we've seen) to midstream companies to service companies—many of which are in the Energy Select Sector SPDR ETF (XLE).