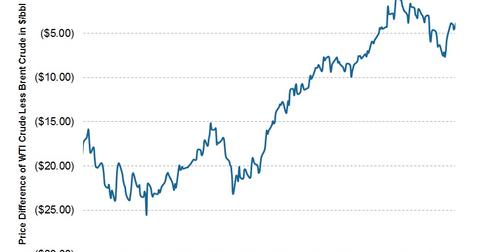 Must-know: Oil prices have reacted to Libyan supply disruptions
By Ingrid Pan

Updated
Supply disruptions in Libya
Theoretically, a supply disruption of crude oil from Libya without an increase in production from other countries would raise crude oil prices. However, as we've seen, Saudi Arabia, the United States, and Iraq have all experienced increased oil production over the past few months, which has at least helped to stabilize oil prices.
WTI oil prices have remained elevated at levels mostly above $100 per barrel since July. This may have been a result of decreased Libyan oil production as well as escalating tensions in Syria (see Why the oil market reacted to recent news on the Syria conflict for more information). Plus, while Brent and WTI had traded at near par in July, at points in August and early September, WTI traded $5 to $7 below Brent. This may have been due in part to reduced Libyan production. Brent has come to represent the international oil benchmark, while WTI has come to represent the U.S. oil benchmark. Oil production in the United States during this period continued to grow steadily, and WTI trades below Brent. This is because much new oil production from the United States is produced in inland areas and then transported to the hub at Cushing, where WTI is priced, but this crude has had trouble getting to end markets. This has depressed the price relative to Brent, an international waterborne crude of a similar quality.
With Libya's supply disruptions and the United States' supply growth, this may have caused the spread between the two benchmarks to widen back out. Please see Why the WTI-Brent spread closed slightly tighter for more about the spread.
Article continues below advertisement