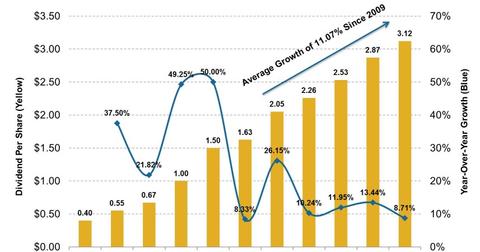 Must-know: McDonald's has increased dividends by 11% each year
By Xun Yao Chen

Updated
McDonald's Corp. (MCD) provides a ~3% dividend return
With the current share price of McDonald's Corp. (MCD) trading at $97.00 and the company paying out dividends of $0.77 a share over the past four quarters (which amounts to an annual dividend of $3.08), McDonald's historical dividend yield equates to 3.18%.
Lowest dividend growth in a while
However, you'll often notice that this isn't what's quoted by many brokers and websites. Because the market is forward-looking and the return an investor gets depends on future cash flow, not past cash flow, we must use the next four quarters of dividends. Recently, McDonald's raised its quarterly dividend from $0.77 to $0.81—a 5% increase. So investors who had invested in McDonald's from the beginning of 2013 would be receiving a total of $3.12.
Article continues below advertisement
Over the next four quarters—McDonald's Corp. (MCD) has historically increased dividend around this time of year—investors can expect to receive $3.24 in dividends. This results in a dividend yield of 3.30%. Does that sound like a lot? No, but it's safe and it beats the S&P 500's 2.0%, the Dow Jones' 2.2%, and the Consumer Discretionary Select Sector SPDR ETF (XLY)'s ~1.40%.
Dividend growth has averaged ~11% over the past four years
Although this is the weakest increase in quarterly dividends over the past four years from McDonald's, from $0.77 a share to $0.81 a share, McDonald's has historically increased its dividends by a compounded average of 11.07% since 2009. Analysts used only four years of past data because the economic fundamentals back then were quite different. In 2009, McDonald's increased dividends, as it saw more traffic and same-store sales in 2008 due to the start of the financial crisis. Before 2007, a large portion of the company's growth was driven by expansions in Europe and Asia, which the company isn't growing as fast it used to.
Rising dividend coverage ratio
Article continues below advertisement
Over the course of 2004 to 2009, part of the growth in dividends wasn't associated with an increase in earnings. Rather, the company decided to return a larger part of its earnings or cash flow to investors because it was cutting back on expansions and disposing above-normal levels of assets. As a result, we've seen the dividend payout ratio, which is calculated by dividends per share over earnings per share, rise from 30% to 49% from 2004 to 2009. The dividend-to-free-cash-flow ratio also rose from 28% to 61%.
In 2012, the dividend-to-free-cash-flow ratio jumped, as the company increased expenditure to renovate existing restaurants in the United States and continued to expand in Europe and Asia. While dividends increased by 13.44% in 2012 from 2011, the company met with challenges, as slower economic growth and a globally weak labor market led to declines in same-store sales. This has led to a slight increase in the dividend payout ratio, rising from 47% to 52%. (The dividend payout ratio is calculated as dividend per share over earnings per share.)