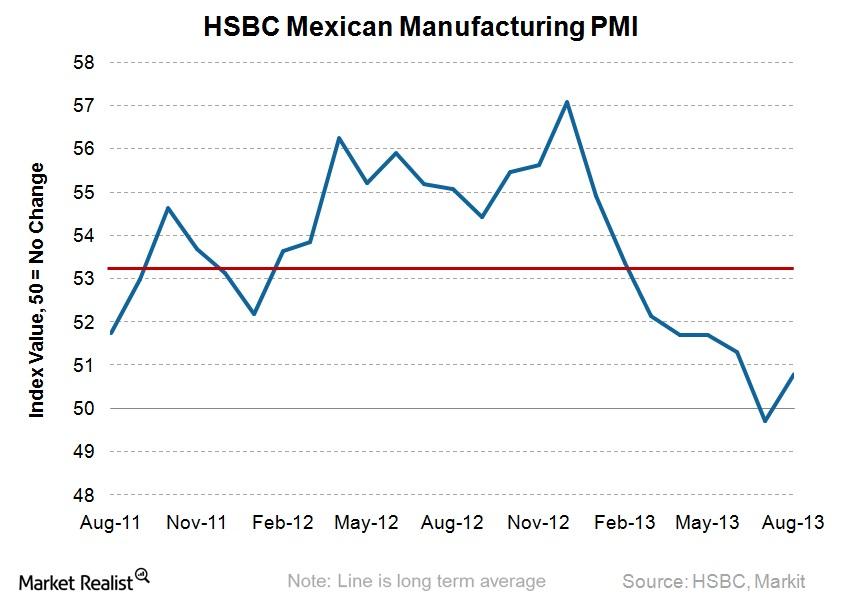 Must-know: Mexican indicators confirm a positive turnaround
By Dale A. Norton, ME

Nov. 21 2019, Updated 8:07 p.m. ET
Turnaround signals
Earlier this month, several macro indicators started giving faint signals of turnaround for Mexico (EWW). While quarterly GDP was down, PMI started pointing towards a reversal in the negative course.
Given that PMI is forward-looking, positive macroeconomic data this month have been key in confirming the positive trend.
Industrial production increasing
Industrial production was dragged by construction activity in July. But manufacturing has increased three months in a row. On annual terms, manufacturing dropped 0.1% in July. But month-over-month, it increased 0.4%—the third increase in a row.
The drag seems limited to the construction sector, which may continue until the government's infrastructure plan starts kicking in during 2014. On the positive side, auto exports spiked in August. This is one of the largest sectors of Mexican manufacturing.
Inflation remains low
As we mentioned in a previous article, inflation has remained under control and come in lower than expected in August. Inflation will likely remain around 3.5% in the near term.
There may be some marginal upside pressure from the agricultural sector, which will continue until the end of the year. The biweekly indicator did inch higher earlier this week as well.
Keep reading for additional positive indicators supporting a recovery in the Mexican economy (EWW).
Article continues below advertisement