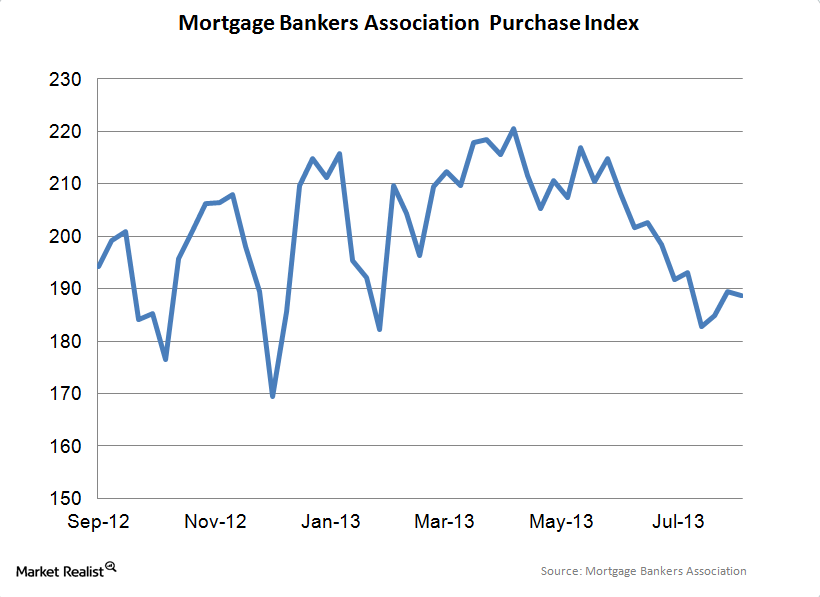 Why the MBA Purchase Index fell but housing remains affordable
By Brent Nyitray, CFA, MBA

Nov. 20 2020, Updated 2:46 p.m. ET
The MBA Purchase Index fell 0.4% for the week ending August 30
The MBA Purchase Index fell by 0.4% last week, which is somewhat surprising given that rates fell and even refinances rose. Part of the cause could be the end of the summer selling season. One question that's been on the minds of those in the real estate industry is how will the increase in rates affect homebuyers? Will it discourage them, or will it get them off the fence (given that now both prices and rates are going up)? So far, at least according to KB Home (KBH) and Lennar (LEN), the jump in rates is getting buyers off the fence. However, PulteGroup (PHM) did note that the first-time homebuyer was pulling back due to higher rates. Beazer Homes (BZH) saw the same thing. Pulte and Beazer are more geographically diversified than KB or Lennar, and are more focused on the first-time homebuyer.
Article continues below advertisement
Unlike the MBA Refinance Index, the MBA Purchase Index is driven by seasonal factors. The real estate cycle starts picking up in April, and the selling season peaks in the summer, lasting until late fall. The purchase index somewhat understates the true activity going on in the market, as professionals who are cash buyers have been responsible for a large chunk of the buying. The index won't count their activity. Over the past few years, cash buyers have accounted for roughly half of all sales.
Ever since rates bottomed in late April, the MBA Purchase Index has declined much less than the refinance index. This steadiness is largely because homebuyers tend to be less interest rate–sensitive than refinances, which are 100% interest rate–driven. Higher interest rates aren't expected to impact purchase activity the way they affect refinance activity. In spite of the rise in rates, housing remains highly affordable.
Implications for homebuilders
Article continues below advertisement
Generally, earnings for homebuilders like Lennar (LEN), Toll Brothers (TOL), KB Home (KBH), Standard Pacific (SPF), and Ryland (RYL) were very good. Each reported increases in revenues and earnings, and some of the West Coast–based homebuilders, like KB Home (KBH), reported 50% to 80% increases in backlog. It's important to remember that these numbers are coming from an extremely depressed base. Prior to the housing bust, we only rarely observed a housing starts number below 1 million—usually at the lowest point of a recession. In March, we rose above 1 million starts for the first time since 2008. Housing starts have been dropping since March, but the drop appears to have been driven more by multi-family construction (which tends to be volatile) than single-family residential construction.
The homebuilder ETF (XHB) has been up smartly over the past 12 months, but we're still very, very early in the housing recovery. This is because first-time homebuyers have been absent due to tough credit conditions and a difficult labor market. As those circumstances change, the market will release a lot of pent-up demand, which should drive homebuilder earnings for quite some time.