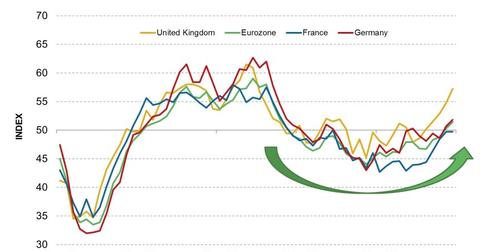 Why does the manufacturing PMI lead restaurant sales?
By Xun Yao Chen

Sep. 23 2013, Published 8:00 a.m. ET
How manufacturing PMI relates to restaurant sales
The manufacturing PMI is another key indicator that investors can use to help understand the fundamentals in the restaurant industry. While not directly applicable to the service industry, the manufacturing sector highly correlates with the overall economic cycle and is released about two days before the service PMI. When the manufacturing sector is improving, it tends to have a positive impact on employment growth—and, consequently, restaurant sales. Conversely, when manufacturing activity is falling, you can expect employment to fall, and as a result, restaurant sales growth as well.
How to interpret the manufacturing PMI
Article continues below advertisement
Like the service PMI, the manufacturing PMI is like a sentiment indicator, in which Markit surveys managers about whether business is better, the same, or worse than the previous month. Figures above 50 are often seen as the cut-off for expansion, and those below 50 suggests recession. And the farther away they are from 50, the stronger the expansion or contraction, because they reflect more people answering "better" or "worse."
Changes to the PMI often have a significant short- to medium-term impact on the shares of companies and ETFs traded in the market. When the PMI is rising, companies' shares will often rise, and when the index is falling, it's often negative. However, as long as the index stays higher than 50, it's generally considered a long-term positive for economic and market growth.
Manufacturing PMI leads service PMI
Article continues below advertisement
The manufacturing PMI is also undergoing a similar pattern as the rest of the indicators we've seen, having bottomed at ~43 for the Eurozone and 45 for the United Kingdom in mid-2012. While it wasn't like 2009, when governments around the world injected large amounts of stimulus, it nonetheless reflects a turnaround in the manufacturing industry. You might have also noticed that the manufacturing PMI leads the service PMI by a few months. This is because the manufacturing sector is most sensitive to economic activity, while people aren't likely to cut consumption when economic growth is slowing or pick up consumption when business activity resumes.
As long as the manufacturing PMI can continue to rise and stay above 50, we should expect the service PMI to follow and employment growth to turn around soon. Further increases in employment will drive restaurant sales as more people eat out. This bodes positively for McDonald's (MCD) and Yum! Brands (YUM) in Europe, the iShares Dow Jones Consumer Service ETF (IYC), the Consumer Discretionary Select Sector SPDR ETF (XLY), and the Vanguard FTSE Europe ETF (VGK).