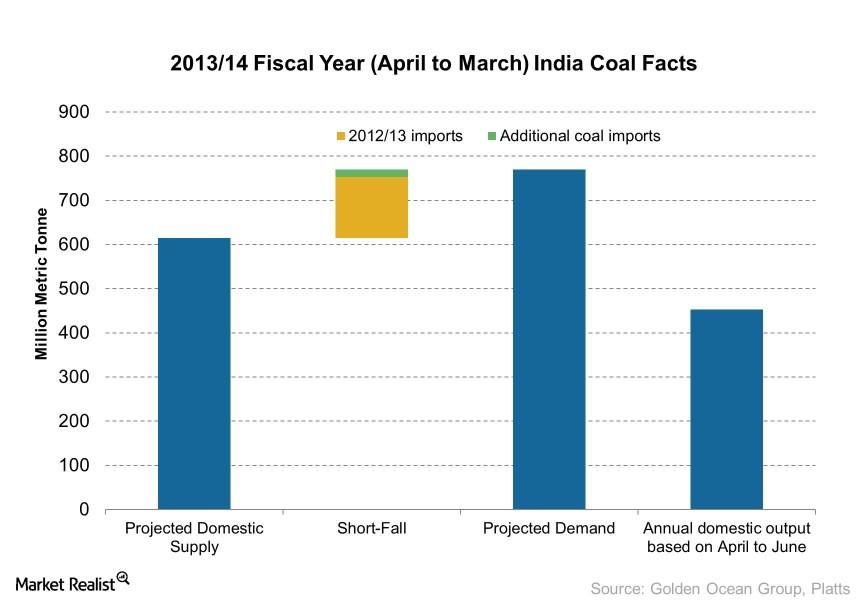 Why India will face a coal deficit in fiscal year 2013–2014
By Xun Yao Chen

Nov. 21 2019, Updated 5:13 p.m. ET
The significance of India's coal imports
The world total coal import (coking coal and thermal coal) amounted to ~1,029 million metric tonnes (mt) in 2011. As one of the world's countries with the largest population and an emerging market, India imported about 138 million metric tonnes of coal during the last fiscal year (April to March). So India's coal import volume can have a significant effect on global coal trade volume and demand for dry bulk ships.
India to face shortfall of 155 million metric tonnes of coal
Article continues below advertisement
According to the Minister of State for Coal, Pratik Prakash Bapu Patil, Indian demand for coal will touch 659.59 million mt in the 2013–2014 fiscal year, while domestic availability is only going to hit 614.55 million mt. That would leave a shortfall of 155 million mt that the country has to import from neighboring countries such as Indonesia, and countries farther away like Australia, South Africa, and the United States.
Causes for limited domestic production growth
Main factors that are constraining production are difficulties in acquiring land, obtaining environmental and forest-related clearances, and mining in some areas. Limited capacity to transport coal from mines via rail was another barrier for higher coal production. It seems like India's infrastructure problem occurs every year—which is also a reason why food inflation is said to be high there, according to experts.
Positive impact on global dry bulk trade
Article continues below advertisement
Having imported 138 million mt of coal during the 2012–2013 fiscal year, a 155 million mt deficit represents growth in imports of more than 10%. As a percent of 2011's coal imports, that represents about 1.7% in addition to total coal shipments, which makes up almost 30% of the world's dry bulk trade.
Total imports could end up higher, however. From April to June, India's total coal output was 113.27 million mt—which was lower than what the country expected, as heavy rain in some regions and hot weather in another region kept mines closed. So any further disruptions in India's coal output could significantly boost imports this year. The CEO of Diana Shipping Inc. (DSX) recently said that thermal coal imports were to increase by 5% this year in its second quarter 2013 earnings call. That would be positive for dry bulk shippers such as DryShips Inc. (DRYS), Diana Shipping Inc. (DSX), Navios Maritime Partners LP (NMM), Navios Maritime Holdings Inc. (NM), and Safe Bulkers Inc. (SB).
Some risk in the short term
Although experts agree that India's hunger for electricity could make the country the largest importer of thermal coal in the future, outpacing China, in the short to medium term, there's a risk that the falling rupee may curb import growth. Given the country's current economic situation, economic growth and coal demand could fall short.