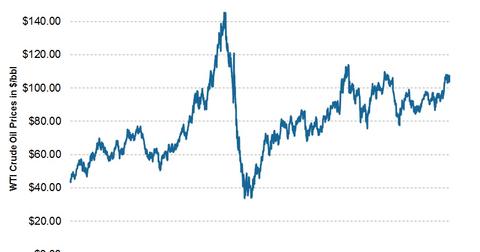 Why favorable oil prices help upstream energy sector spending
By Ingrid Pan

Updated
Positive trends
Oilfield service companies are anticipating positive trends in the capex budgets of of upstream companies (oil and gas producers), in part due to sustained high oil/liquids prices. Generally speaking, a large proportion of the capex budgets of upstream companies goes towards activities drilling and completing wells, testing new areas, and finding hydrocarbons—the purview of oilfield service companies. Higher spending from upstream energy translates into more revenue for oilfield service companies, a positive for the sector.
Quotes from 2Q13 conference calls
Halliburton (HAL)
Article continues below advertisement
"At this time, it's too early to tell the full extent of customer plan revisions and their impact on activity in the fourth quarter. However, we believe that current commodity prices make budget reloading a more compelling option for our customers, which could help mitigate the risk to a fourth quarter slowdown."
Given the current strength in commodity prices (particularly oil), Halliburton thinks there's a good chance that many oil- and gas-producing companies such as ExxonMobil (XOM) and Hess Corp. (HES) could readjust their annual budgets to allow for more spending.
Schlumberger (SLB)
"Overall, the market continues to support Brent prices over $100 per barrel. For natural gas, the apparent rebalancing of the U.S. market is still fragile as gas production remained steady and as the power sector has already switched back to coal in some regions on higher gas prices. Internationally, Asian LNG prices eased on weaker Chinese demand trends, but remained close to oil parity, while in Europe regional supply declined from the North Sea and very cold weather supported high spot prices."
Oil and Asian LNG (liquefied natural gas prices) remain in a favorably high range. U.S. domestic natural gas prices remain weak.
"Despite the overall slow progress in the economic environment, the latest releases of the third-party E&P spending surveys saw upwards revisions of upstream CapEx estimates, making 2013 the fourth consecutive year of double-digit growth by spending gains, driven by the international and offshore investments, noticeably in the Middle East & Asia regions while the North American spending remained flat to slightly up. These estimates are further confirmed by the rig count outlook that shows double-digit growth in the number of both shallow water and deepwater rigs active worldwide and a 6% growth in the international land rig count in 2013."
An independent survey of upstream names reported that many of the companies revised their capex budgets upward, particularly from the international (non-U.S.) and offshore regions.