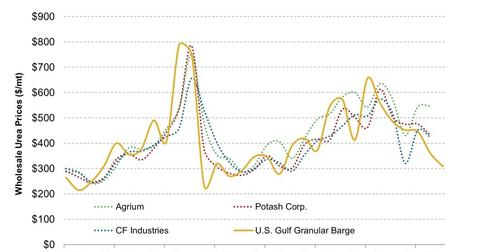 Why falling fertilizer prices will cut into producer revenues
By Xun Yao Chen

Updated
Prices for wholesale urea slumping hard
Prices for urea sold wholesale have performed worse than retail prices so far. According to Green Markets' data, prices started to fall towards the end of March, when wholesale urea exchanged at ~$450 per mt (metric tonne). As of September 16, the last exchanged price was $309 per mt, representing a decline of approximately 33%—much worse than the 20% drop seen in retail urea prices. 
The relationship between wholesale price and companies' shares
Article continues below advertisement
Wholesale urea prices are a key factor that drives fertilizer companies' nitrogenous fertilizer revenues. Since fertilizers are essentially commodities, a non-differentiated product, much of their price depends on industry supply and demand. As one of the most competitive industries, with the largest companies holding just a small share of the total market, the industry is highly competitive. So, when wholesale urea prices change, these fertilizer stocks' revenue, earnings, cash flows, and share prices will be affected.
Market prices lead firm selling price
The above chart shows that wholesale urea prices disclosed within companies' financial report have very closely followed changes in prices sold at the US Gulf Granular Barge. As prices for wholesale urea have fallen quite significantly since companies have announced their average selling price for the second quarter, investors should expect lower average selling prices in the next few months.
Wholesale ammonia prices were also negatively affected
Prices for wholesale ammonia (a common compound that serves as a fertilizer itself or as input for nitrogenous fertilizers such as urea) have also been performing negatively. At the end of March, prices were quoted at $645 per mt in the Caribbean. For the past three weeks, from the end of August to September 16, they were around $455 per mt—a decline of 30%. Despite these declines, since as early as January, the prices that fertilizer companies were able to sell at haven't followed. Agrium Inc. (AGU) and CF Industries Holdings Inc. (CF) were selling their ammonia at $750 per mt. It's just be a matter of time until they're also negatively affected. And when wholesale ammonia prices do fall, it could mean a drop of 35%. This is a pretty significant fall. If this happens, Terra Nitrogen Company LP (TNH) and the VanEck Vectors Agribusiness ETF (MOO) will also be negatively impacted.