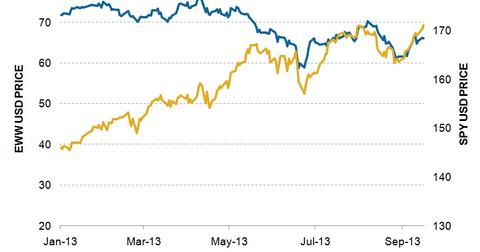 Additional indicators confirm a positive outlook for Mexico (EWW)
By Dale A. Norton, ME

Updated
Is the Mexican market becoming bullish?
Below are additional macroeconomic indicators released in September that point towards a recovery in the Mexican economy (EWW). The Mexican market may be changing its course towards a bullish trend.
Unemployment drops
The rate of unemployment also continued its downward trend during August, dropping to 5.2% in August versus 5.4% a year earlier. On a monthly seasonally adjusted basis, the drop was 0.1% lower than the 4.8% recorded in August.
Urban unemployment, which is a better gauge of the economy's health, dropped from 6.4% to 5.9% year-over-year, or 0.1% month-over-month.
Retail sales continue upward trend
Article continues below advertisement
Retail sales increased for the third month in a row in July, suggesting consumer demand is gaining momentum. The increase was driven by the auto sector, which partially offset weaker department store sales. August will likely be strong as well, but it will be biased due to the recent natural disaster in Mexico.
Trade balance improves, driven by exports
While the trade balance showed a deficit in August, total exports showed the third month in a row of steady increases. The industrial sector is a large segment of the Mexican economy, so it benefits the economy as a whole.
Global activity indicator showed improvement in services
The indicator posted monthly improvement, led by increased activity in the services sector. This resonates with the improvement in retail sales, which shows consumer demand is definitely picking up.
Overall outlook is optimistic
The macroeconomic data released in September confirms that Mexico is on an upward trend. Previous weak spots (such as currency weakness) are less of a concern now, and the medium-term outlook for the market seems positive.