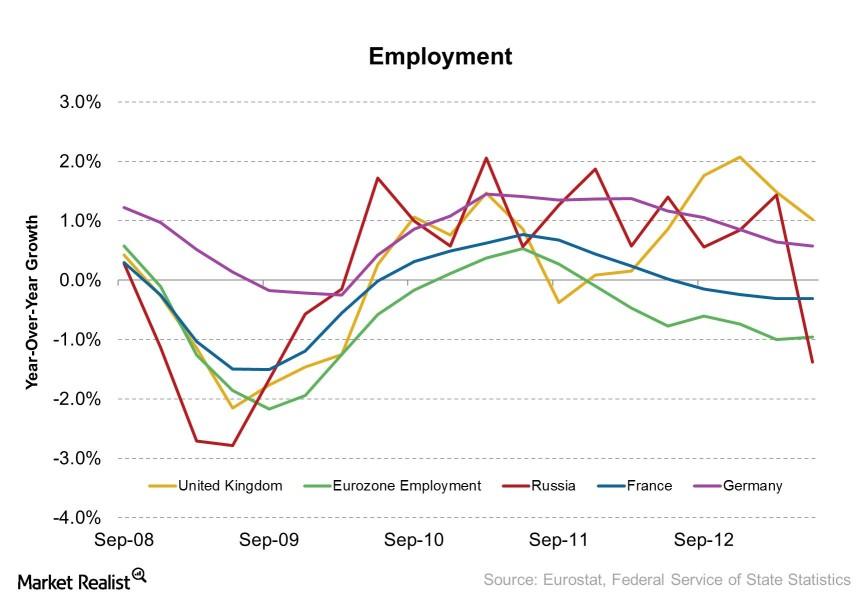 Why more Europeans could be eating at McDonalds and Yum!
By Xun Yao Chen

Dec. 4 2020, Updated 10:53 a.m. ET
Employment could be turning around
The below chart shows employment growth for countries in Europe. The Eurozone, which only includes countries using the euro (so, excluding the United Kingdom and Russia), has been experiencing a declining growth rate over the past two years. While the overall growth was in positive territory from mid-2010 to mid-2011, hitting a peak of ~0.5%, it has been falling since, as austerity and monetary policy tightening measures were put into place to cool inflation and control burgeoning government debt. Because these measures lower aggregate demand, businesses started laying off workers in 2011. In 2012, Eurozone employment fell into negative year-over-year growth.
Employment data history
Article continues below advertisement
Although Germany fared better initially, with the lower euro helping keep the country's export cheaper, it was nonetheless negatively affected after. Its growth fell from ~1.5% to just 0.5% as of the second quarter of 2013. The United Kingdom was also negatively affected by problems in Europe, high inflation, and its own austerity measures in order to rebalance the economy. Employment growth gained momentum in 2012 due to the 2012 Olympics held in London. Although Russia was doing well initially, it looks like trouble is emerging for the country.
When the ECB (European Central Bank) calmed the market by being the lender of last resort, Europe averted an all-out crisis. Since inflation dropped (a key indicator that Germany looked at when it was strongly against money printing to save other countries) and economic or employment growth fell, politicians are now warming up to delay austerity measures, push back debt goals, and focus on economic growth in the near term. Consequently, the Eurozone's employment growth appears to be starting to base and turn around.
Interpretation of employment growth for restaurants
As investors in the market, it's a good point to know that when growth accelerates (as it did between 2009 to 2011), the stock market often moves higher. When growth falls thereafter, it tends to have a negative impact in the short to medium term. But when growth falls below negative, that's when fundamentals are really negative and stocks are often stuck in a downtrend instead of sideways movement. The second quarter Eurozone data is positive for restaurant sales. If the momentum can turn around, then companies such as McDonald's Corp. (MCD) and Yum! Brands Inc. (YUM), which have significant exposure to Europe, should benefit. This also applies to the iShares Dow Jones U.S. Consumer Service ETF (IYC), the Consumer Discretionary Select Sector SPDR ETF (XLY), and the Vanguard FTSE Europe ETF (VGK).