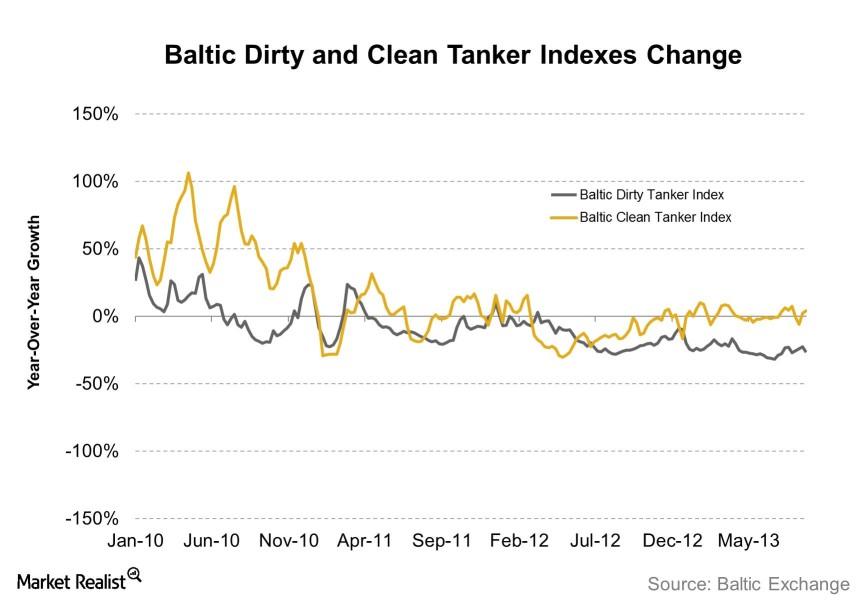 Crude tanker index 25% lower, product tanker index steady
Shipping rates
The single most important indicator that affects tanker companies' top line revenue is shipping rates, which influences profitability margins, earnings, and share prices. So traders and analysts often look at shipping rates. Shipping rates generally fall because of looser supply and demand dynamics. On the other hand, shippers can achieve higher shipping rates through tighter supply.
Oil prices driving shipping rates higher
Article continues below advertisement
On August 30, the Baltic Dirty Tanker Index and Baltic Clean Tanker Index stood at 622 and 604, respectively. While the index for the Baltic Dirty Tanker Index fell from 658 in August 23, reflecting fundamental weakness, the Baltic Clean Tanker Index is finding support around 550, which was recently touched in August. The Baltic Dirty Tanker Index reflects the shipping rate for moving crude oil (unrefined oil) across the ocean based on representative routes and ship class in the spot market. The Baltic Clean Tanker Index, on the other hand, reflects the shipping rate for moving refined oil over water.
The two indexes have have been climbing in July because of higher oil prices, which were caused by expectations of higher demand, based on improving world economic activity and the possibility of tighter supply due to unrest in Egypt. While part of the increase in oil price is positive for oil trade that depends on world economic growth, fuel (oil) is also major component of companies' costs. Given that higher oil was partially driven by unrest in Egypt, tanker firms may not benefit much. Plus, companies may also be unable to take advantage of the recent rise in rates if they've already chartered their ships out, because a single voyage can take up to several weeks. Recently, we've also seen the Baltic Dirty Tanker Index move away from oil prices, which likely reflects a weak demand outlook despite capacity growth falling and tanker rates rising.
Product tankers outperforming crude tankers
Article continues below advertisement
On a year-over-year basis, the Baltic Clean Tanker Index has been outperforming the Baltic Dirty Tanker Index, which shows that supply and demand dynamics on product tankers are currently much better than crude tankers. While the index for product tankers have stopped falling, crude tankers are now down roughly 25% year-over-year. Analysts use year-over-year data to adjust for seasonality. Oil trade tends to be higher during the winter, as countries in the Northern Hemisphere use heating oil to stay warm.
Will the trend stay or reverse?
Most analysts expect rates for crude tankers to stay low, as non-OPEC (Organization of the Petroleum Exporting Countries) production is expected to outpace OPEC production in the next few years, which depresses demand for VLCCs (very large crude carriers). The billionaire shipping tycoon John Frederiksen also recently said, "I do not see any special things before at least another couple of years. At least for the crude oil tankers." Product tankers, on the other hand, are seeing better fundamentals despite higher capacity growth as the United States increases product oil export to Latin America.
Unless we see a change, the current trend remains positive for Tsakos Energy Navigation Ltd. (TNP), Scorpio Tankers Ltd. (STNG), and Navios Maritime Acquisition Corp. (NNA), which focus on product tankers. On the other, Frontline Ltd. (FRO) and Nordic American Tankers Ltd. (NAT) may have to live with depressed rates for at least the short term—even though it may present a good investment opportunity down the road.
The Guggenheim Shipping ETF (SEA) is also negatively affected by lower tanker rates, but it also invests in product tankers and other shipping companies that have performed relatively better.