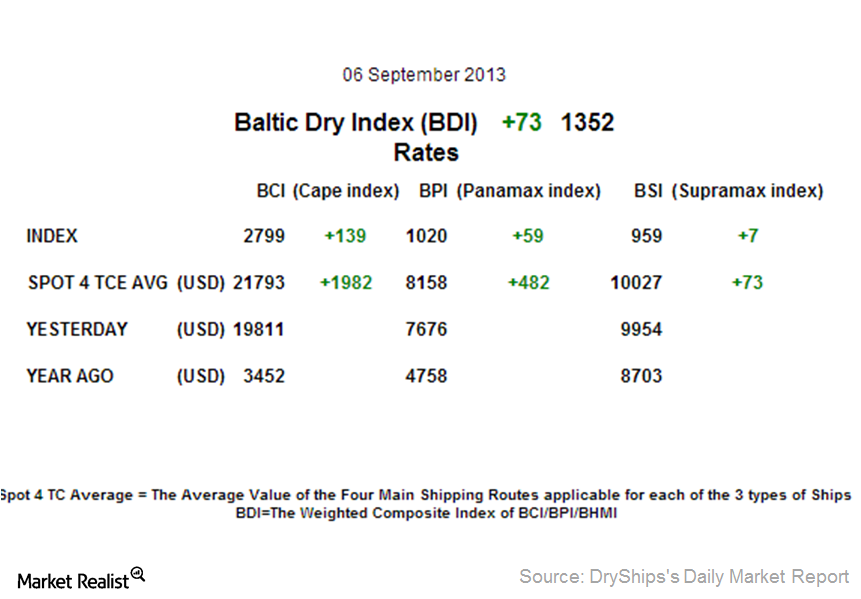 Capesize rates take out 2012 high, a key driver of share prices
By Xun Yao Chen

Dec. 4 2020, Updated 10:50 a.m. ET
Why shipping rates matter
Shipping rates are one of the key drivers that analysts and investors look at, because they reflect supply and demand dynamics, and they influence companies' top line (revenue) performances. So dry bulk shipping companies often move in tandem with shipping rates. When shipping rates rise, there's a good probability that share prices will rise. Conversely, falling shipping rates often have a negative impact.

Capesize rates take out 2012's highs
Article continues below advertisement
On September 6, 2013, the Baltic Dry Index for Capesize, Panamax, and Supramax vessels rose by 139, 59, and 7, respectively, from a day before. These data were taken from DryShips Inc. (DRYS)'s website, and are usually updated daily. They now stand at 2,799 for Capesize, 1,020 for Panamax, and 959 Supramax. While Panamax and Supramax vessels have yet to break above 2012's highs, the Index for Capesize vessels (a class of vessel primarily used to haul iron ore and coal from countries like the Americas and Australia to China) has now officially taken last year's high.
Taking out 2012's high is important because it reflects tighter supply and demand dynamics than last year, which means higher revenue and earnings from Capesize vessels this year compared to 2012. Analysts and investors have been debating whether earnings will improve this year or next year. It appears recovery is already taking place, at least for Capesize ships.
Rates have a significant influence on share prices lately
Article continues below advertisement
Lately, several major companies such as DryShips Inc. (DRYS), Safe Bulkers Inc. (SB), Navios Maritime Holdings Inc. (NM), and Diana Shipping Inc. (DSX), as well as countless other smaller stocks, have been breaking out of falling wedges, triangles, and support lines—all sorts of technical patterns. This is probably one of the few times when shipping rates have such a large influence on share prices, which likely shows the majority of investors (the market) have been quite pessimistic about dry bulk shippers. This trend also reflects the diminishing population of bears and growing numbers of bulls. The last time this occurred was in 2011, when shipping rates fell and so did share prices.
Chart patterns work sometimes, but sometimes they don't. Sometimes, traders use them to fool retail investors. Investors relying only on these patterns can get whipped if they don't understand what's driving share prices. In the short term, technicals will likely dominate, given such momentum. As long as rates continue to rise, share prices will likely follow. The Guggenheim Shipping ETF (SEA) should also benefit given its ~10% exposure to dry bulks. Is this a long-term or a short-term rally?
Continue to our latest weekly dry bulk indicators: Dry bulk shippers in second stage recovery.
Disclosure: I own shares in Diana Shipping Inc. (DSX).