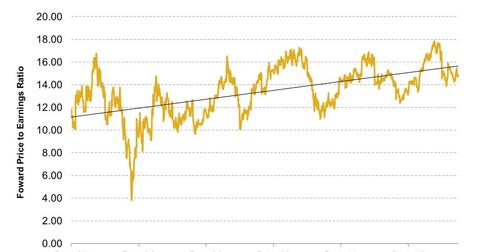 Why Brinker's stock could generate high-teen returns in a year
By Xun Yao Chen

Updated
Management is optimistic about the future
Brinker International Inc. (EAT)'s management is quite optimistic about the company's future outlook. At its 2013 fiscal year earnings call, management spoke of targeting EPS (earnings per share) from continuing operation of $2.70 to $2.85 in fiscal 2014.
Factors contributing to average of $2.77 EPS target
To reach this goal, the company expects the following.
Article continues below advertisement
Same-store sales, which adjust for newly opened restaurants, are expected to increase 1% to 2%. The forecast factors in a 2% increase in menu price, which means restaurant traffic or average check is expected to fall by 0% to 1%. In fiscal year 2013, menu mix and traffic negatively impacted comparable sales by 1%. The company also expects to increase the number of restaurants by 2% from fiscal year 2013, which gives us a total revenue projection of 2%.
Restaurant margins are expected to improve 50 to 75 bps (basis points—1 basis point equates to 0.01%), 16.4% to 16.7%. This will be driven by improved operating efficiencies from new kitchen technology, which should help with labor costs and cost of sales. Further emphasis on waste control, sales of pizza and flatbreads (which command higher margins), and a modest 1% to 2% commodity inflation is expected to drive cost of sales lower.
Depreciation, interest, and tax expenses are expected to remain relatively unchanged.
Wall Street is expecting a 22% increase in earnings
Wall Street analysts currently expect fiscal year 2014 earnings to come in at $2.76, slightly on the lower end of management's guidance, as weak US recovery and increased industry competition are reasons that potentially negatively impact earnings. That represents an increase of ~22% in earnings growth for fiscal year 2014. The company is targeting at least 10% to 15% in annual EPS growth throughout fiscal year 2017. Given its historical track record, and that customers continue to switch towards a cheaper casual dining experience, growth momentum doesn't seem to be stalling.
Valuation doesn't look too negative
The company's current forward-price-to-earnings ratio, based on Wall Street analysts' estimates, also sits slightly below the long-term historical trend. Valuations have expanded (risen) over the past few years likely because of increased confidence for holding equities and the perception that Brinker is now a safer company to hold compared to a few years ago when there was still uncertainty.
Based on the past five years of historical data, Brinker's current share price may look a bit pricey. Its current forward PE ratio of 14.87 is higher than the five-year average of 14.18. If the overall market falls, then Brinker will also be negatively affected. But as long as earnings continue to grow at a rate of 10%, Brinker will likely deliver at least a 12% return including dividends. If earnings do continue to grow by 20% for quite some time, investors could see a return of 20%+ based on share price appreciation and dividends. These aren't inferior to McDonald's (MCD), Yum! Brands Inc. (YUM), and the Consumer Discretionary Select Sector SPDR ETF (XLY)'s returns, while they're most likely a safer option compared to Darden Restaurants Inc. (DRI).