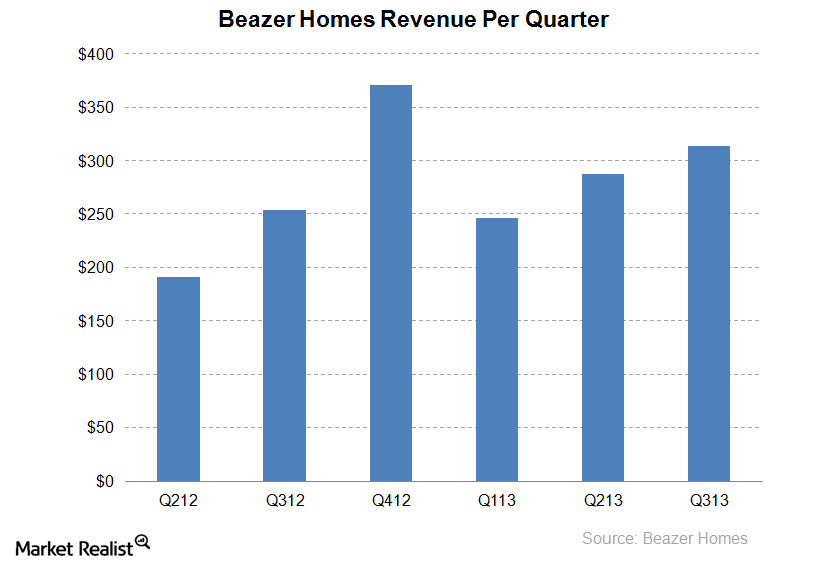 Why Beazer Homes is feeling an increase in rates and prices
By Brent Nyitray, CFA, MBA

Aug. 6 2013, Published 12:14 p.m. ET
Beazer Homes is a geographically diverse homebuilder that focuses on lower price points
Beazer is a homebuilder with a focus on the Southeast, the East, and the West. Its product focus is on the entry-level and first-time move-up homebuyer. Its market niche is in energy-efficient homes and flexible floor plans. Beazer is similar to KB Home in that it's a turnaround story.
Highlights of the quarter
Beazer announced a loss of 22 cents per share—better than the Street expectations of a loss of 34 cents per share. Closings increased 11%, while average selling prices increased 12% to $254,000. The company is experiencing a gradual shift in mix from entry-level to move-up. In keeping with the turnaround theme, it expects to be profitable in the fourth quarter.
Comments on the current environment
Article continues below advertisement
From what we've seen from other builders, we're aware of two "problem" areas: the first-time homebuyer and the East Coast. Beazer has experienced a slowdown in traffic and sales as a result of increased interest rates. It said that rate increases usually act as an accelerant, pulling traffic into the current quarter. This hasn't happened this time around. In contrast, KB Home (KBH) and Lennar (LEN) both noted this phenomenon. In fact, for Beazer, there's less of a sense of urgency lately than there was before.
One theory for this change is that borrowers believe the move in rates has already happened and there will be no catalyst for rate increases in the near future, so there's no rush to buy at these rates. The company posited that an increase in rates of 100 basis points equals a 10% increase in house price. That said, it believes the fundamentals are still strong, as we've underbuilt for many years and are still only delivering about half the homes required to satisfy demand.
On the geographic front, Beazer did note a slowdown in entry-level homebuying in Las Vegas and Phoenix, but it cautioned that this isn't just a first-time homebuyer issue.
Read-across to other builders
Most homebuilders have already reported, and the only major builder left to report is Toll Brothers, which isn't a comp for Beazer because it's in the luxury segment. In a lot of ways, Beazer represents a small PulteGroup in that it's geographically diverse and focused on lower price points. An investor buying Beazer isn't only betting on the sector—but also betting on the turnaround. Extra risk, but potentially extra reward.