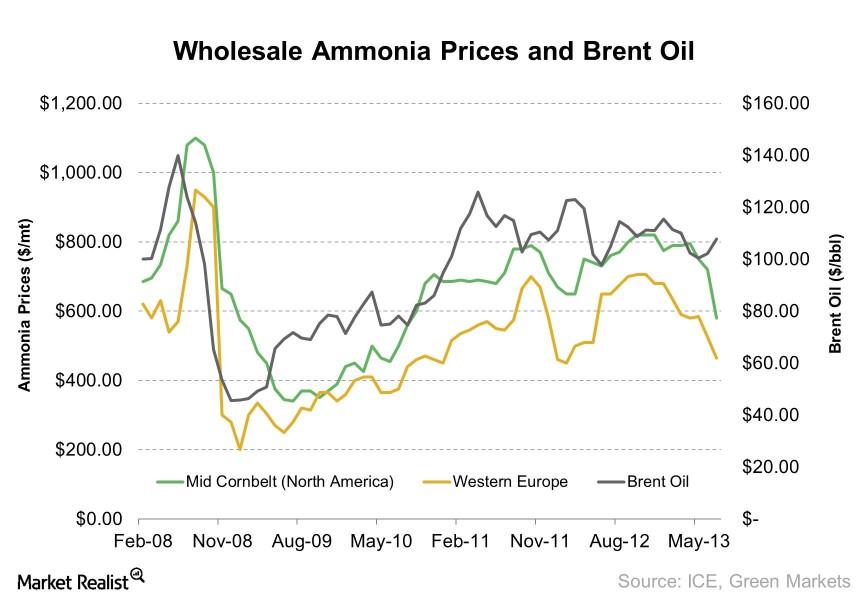 Wholesale ammonia prices have been crashing
Ammonia prices
Wholesale ammonia prices are a key driver of revenue for fertilizer companies, such as CF Industries Inc. (CF), Agrium Inc. (AGU), Potash Corp. (POT) and Rentech Inc. (RTK). Naturally, higher ammonia prices are positive for these nitrogenous fertilizer producers' revenues, earnings, cash flows and share prices. But lower prices are negative.
Falling wholesale prices
The wholesale prices for ammonia at Midcorn and Western Europe stood at $580 and $465 per metric tonne, respectively. Prices for the two products in different regions have been falling for more than 20% since earlier this year. Historically, nitrogenous fertilizers have tracked oil prices, because producers in Eastern Europe were the marginal cost producers, and natural gas prices were linked to oil prices.
Lower coal prices driving prices
Article continues below advertisement
Yet, as coal prices have fallen, producing nitrogenous fertilizers became cheaper in China. That has led to an increase in production and supply of urea, a type of fertilizer that is made from ammonia. As urea prices fell, demand for ammonia also fell. Unless we see coal prices rise higher, China will continue to threaten nitrogenous fertilizer prices.
Implication for fertilizer producers
This bodes negative for share prices of fertilizer producers, such as CF, POT, AGU and RTK. CF Industries and Rentech, which have significant exposure to nitrogenous fertilizers, and have been negatively affected by such developments.
If depressed coal prices is just a short-term event, then these fertilizer companies should not have to worry much. But if it is more of a long-term event, then there is substantial risk to fertilizer prices and demand, because China is expected to increase capacity by a substantial amount. This will also affect the VanEck Vectors Agribusiness ETF (MOO), which invests in most of the companies mentioned.