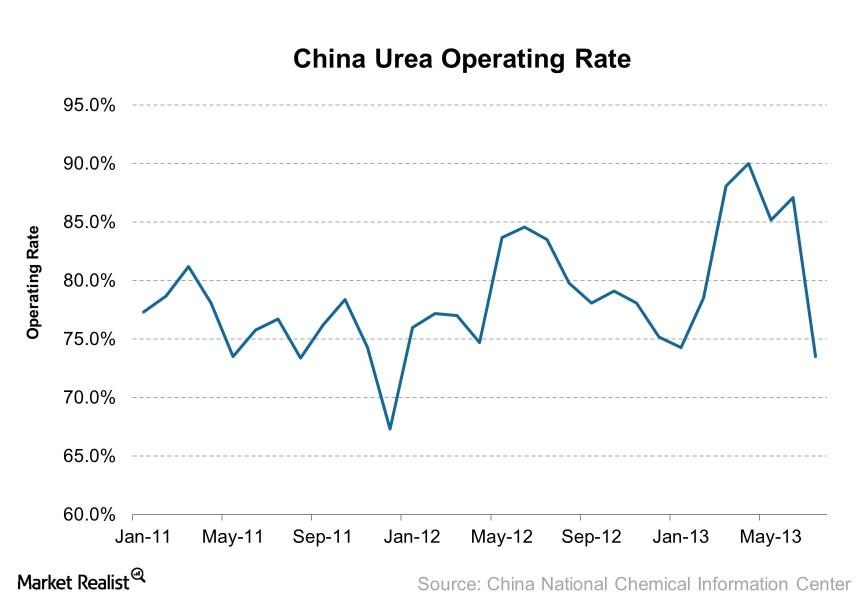 Urea falls to 1,701 renminbi in China but utilization crashes
By Xun Yao Chen

Nov. 27 2019, Updated 12:04 p.m. ET
The impact of China's urea prices
China's urea prices can have a significant impact on global fertilizer prices. Although the production cost of urea is on the higher end, as urea production uses a large source of nitrogen extracted using coal instead of natural gas, coal prices can have a significant impact on the cost of production. When coal prices fall, they make Chinese producers much more competitive, allowing them to increase their output. Higher output will negatively affect global urea prices—especially when the export taxes lower during the off season (July to October).
Urea prices extend fall
Article continues below advertisement
On July 30, 1 metric tonne of urea stood at a price of 1,701 renminbi, compared to 2,100 at the beginning of the year and 1,820 at the beginning of July. Although domestic farmers and higher coal prices had supported urea prices until March, urea prices have since fallen since China moved to curb soaring housing prices and dampened its economic outlook, which negatively impacted commodity prices—including coal. That development has made 80% of Chinese producers that use coal to make fertilizers much more competitive in the global market. Domestic producers reacted by increasing their production.
China flooding the global market
While operating capacity has historically fluctuated near 75%, it has climbed to as high as 90%. That's a 20% increase in production. Domestic buyers are unlikely to fill in the excess supply, given that most already purchased their fertilizers for annual plantation around November to April (the on season), a few months ago. This means that starting last month (July), when export taxes lowered, these supplies will flood the global urea market. Concerns about China's supply already hit nitrogenous fertilizer (the broad name of urea) manufacturers such as CF Industries Holdings Inc. (CF), Agrium Inc. (AGU), Terra Nitrogen Company LP (TNH), and Yara International ASA (YARIY) a few months ago.
On a positive side, urea capacity utilization crashed to 73.5%. Whether this is due to additional capacity or lowered output is unknown. But the National Bureau of Statistics of China will publish data on urea output around August 9. We'll have to wait for a while.
Is there light at the end of the tunnel?
As long as coal prices remain low, urea prices will likely remain low. Although this could have priced in already, urea priced have historically fallen through October due to the off season's weak demand. Unless farmers from the southern hemisphere increase their purchases, global urea prices will be negatively affected, and so will the share prices of the stocks mentioned earlier. But the latest data on urea operating output may be a sign that urea producers see an oversupply of urea in the market, a potential light at the end of the tunnel. While the VanEck Vectors Agribusiness ETF (MOO) will also be negatively affected, it's diversified into other fertilizer products and business segments in the agriculture industry. But who could benefit from this fall in global urea prices and shares? Dry bulk shippers that haul fertilizers.