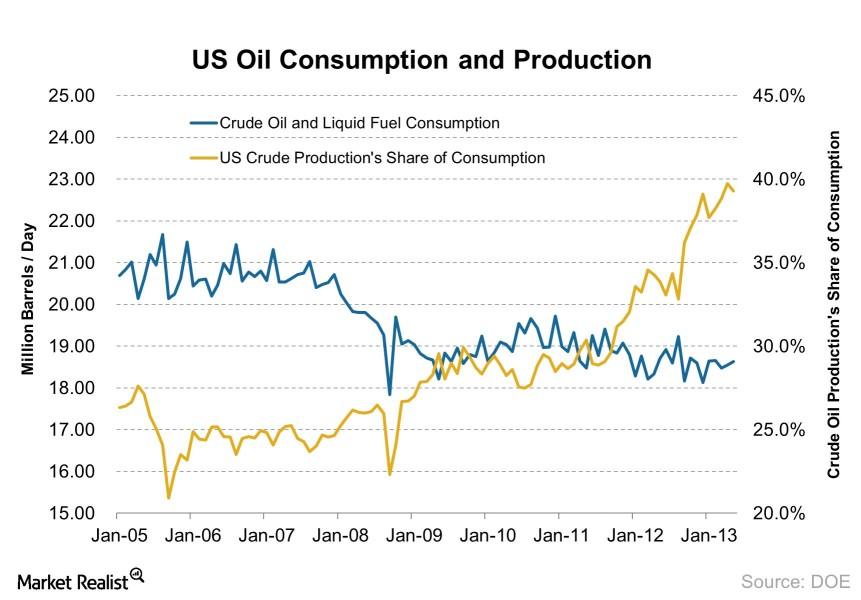 U.S. oil imports continue to fall due to U.S. energy boom
By Xun Yao Chen

Aug. 19 2013, Published 1:23 p.m. ET
Energy boom in the United States
The United States has historically been the largest importer of oil. But since horizontal drilling and hydraulic fracturing technologies (which made it possible for energy companies to extract oil from areas where oil extraction was initially considered impossible and uneconomical) started to take off after successful trials, the United States has begun its journey of becoming an energy-independent country. The EIA estimates that the country will become the largest producer of crude oil within the next few years, knocking countries such as Russia and Saudi Arabia off the top chart.
Higher production, fewer imports
Article continues below advertisement
While the U.S. energy boom drew millions of dollars, made a few people rich, and helped reduce the country's trade deficit, it destroyed tanker companies. Originally expecting global oil shipments to grow briskly—like they did before the financial crisis—tanker companies saw a new reality: a decline in oil shipments to the United States. As production grew in the United States, U.S. oil refiners began to rely less on foreign oil. That meant less business for tanker firms that have historically relied heavily on the U.S. economy, which negatively affects shipping rates. U.S. crude oil imports, which stood at 10 million barrels per day, soon fell to just under 8 million barrels per day.
Trend remains intact
The latest data from the DOE (Department of Energy) showed a slight decline in U.S. oil production of 7.32 million barrels per day in May, down from 7.37 million in April, but the trend remains up. For this year, the U.S. Energy Information Administration expects oil production to average 7.3 million barrels per day. Since the first five months of production have averaged 7.2 million, with the lowest month at 7.03 million in January, production will likely hit towards 7.6 million by the end of the year to give us an average of 7.3 million barrels per day.
Article continues below advertisement
Import—which stood at 7.89 million barrels per day at the start of the year and fell to 7.74 million barrels per day in May—could fall further to 7.3 million barrels per day by the end of this year, assuming that U.S. oil demand holds constant. This means that the gain we expect to see out of China, of approximately ~0.4 million barrels per day (see Part 6) could all be wiped out.
Domestic production taking away supply
Although oil demand in the United States could increase with higher economic activity, higher domestic production will likely continue to displace oil imports. Oil consumption in the United States is no longer as high as it was before 2008 due to the use of more energy-efficient cars. As a result, even when we saw the broad stock market rise higher throughout the past three years, oil consumption hasn't recovered. With more production coming online, U.S. production as a share of U.S. crude oil and liquid fuel consumption rose from 25% to 40%.