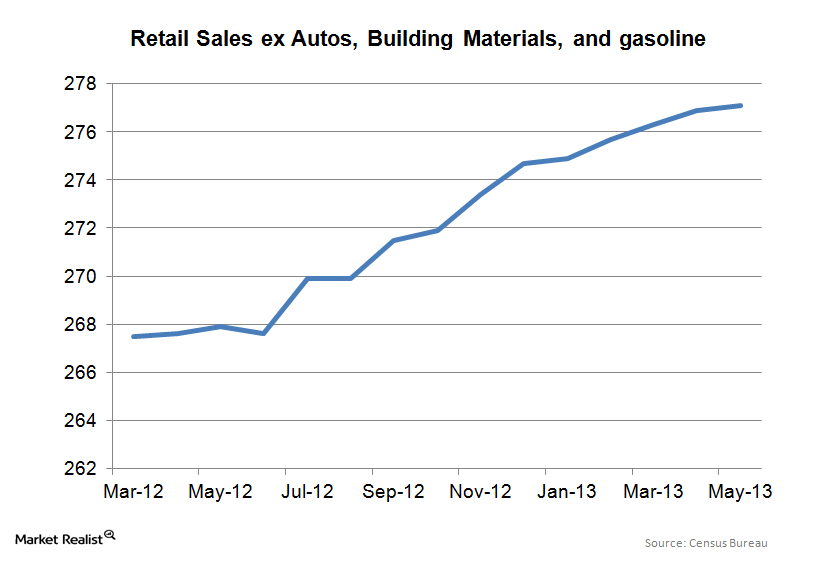 Retail sales increase 0.2% in July, homebuilder opportunity ahead
By Brent Nyitray, CFA, MBA

Dec. 4 2020, Updated 10:53 a.m. ET
Retail sales data gives analysts insight into the strength of the consumer
Consumption is the biggest driver of the U.S. economy and accounts for 70% of GDP. Consumption has been relatively subdued since the recession began, as Americans have boosted their savings rate and spent only on essentials. The real estate bubble drove consumption in the mid-'00s as people took out cash refinances and spent the extracted home equity. This increased the cost basis for many people's homes and left them vulnerable when house prices collapsed. As a result, they've focused more on paying down debt than spending. This de-leveraging process has been going on for a while, but consumers are still indebted.
Article continues below advertisement
The Census Bureau releases retail sales data monthly. When looking at retail sales, it's important to strip out commodities, like gasoline and building materials, which can influence the index by virtue of price volatility. Autos are usually taken out as well, as they can be extremely volatile also. The chart above shows the "core index," also known as "the control group." The report received is the advance retail sales estimate. It's based on incomplete data. The data is subject to revision, and the final May sales data will be released at the end of June. Finally, the number doesn't include services, so the retail sales data reflects about half of U.S. consumption.
Advance retail sales come in better than expectations
The headline retail sales number increased 0.2% versus expectations of a 0.3% increase. So far, fears of a drop in consumption due to the sequester in Washington haven't yet been borne out. Increased interest rates haven't dampened sales either. Ex-autos, retail sales increased 0.5%. Ex-autos and ex-gasoline rose 0.4%, which was in line with the 0.4% forecast on the Street.
The big question people will be focusing on is whether the huge jump in interest rates over the past month flows through to the economic data. So far, it doesn't appear to have affected spending, but interest rate changes usually take a few months to start showing up in the data.
Implications for homebuilders
Homebuilders are sensitive to the general economy—mainly the job market and interest rates. That said, increases in consumption and sales are likely to forecast better growth ahead for the homebuilders.
Article continues below advertisement
Overall, increases in business activity and consumption are starting to drive more business for homebuilders, like Lennar (LEN), KB Homes (KBH), Standard Pacific (SPF), Toll Brothers (TOL), and NVR. Housing starts have been so low for so long that there's some real pent-up demand that will unleash as the economy improves. The secular (long-term) story for homebuilders is optimistic: household formation numbers will be a real wind at their backs.
The return of the homebuilding sector can set up a real virtuous circle for the economy. A big reason why the recovery has been tepid so far has been the lack of construction, which is a big employer. Historically, homebuilders were the first to recover after a recession—construction and homebuilding usually led the economy out of a recession, which would be evident by a spike in housing starts. This time around, that didn't happen because of shadow inventory, which meant that economic growth was more tepid during this recovery. But that appears to be changing.