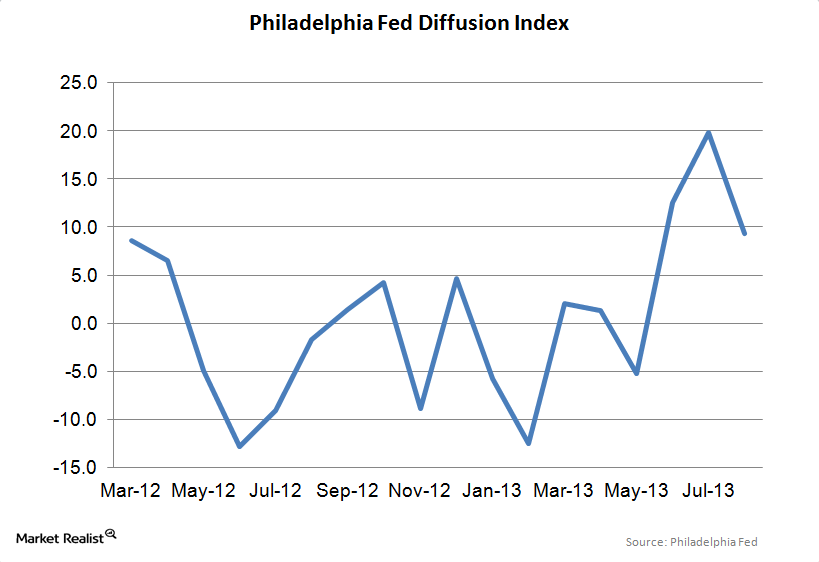 Philly Fed Index drops after huge months, but outlook optimistic
By Brent Nyitray, CFA, MBA

Nov. 20 2020, Updated 11:29 a.m. ET
The Philadelphia Fed Survey is an important survey about economic expectations in the Mid-Atlantic region
The diffusion index is based on the number of businesses reporting increased activity less the number of businesses reporting decreased activity. It also includes an index of expectations six months out. The survey drills down into orders and shipments, employment, inventories, and prices. It also includes a special survey that changes each month. In many ways, it's similar to the New York Fed's Empire State Manufacturing Survey.
Article continues below advertisement
Most of these Federal Reserve indices are diffusion indices, which pose the question, "Is this statistic (orders, pricing, or hiring) going up, staying the same, or going down?" The index value is the percentage of respondents who answered "up" minus those who answered "down." In other words, if respondents are asked whether they expect hiring to increase over the next six months, and 25% say  it will, 60% say employment will stay the same, and 15% say employment will decrease, the results make the diffusion index 10 (25% expect employment to rise minus the 15% that expect employment to fall).
The index fell in August, but June and July were extremely strong
The overall index fell from 19.8 in July to 9.3 in August. Manufacturing still expanded—just not as quickly as it had the past couple of months. Most indicators fell, with the exception of inventory.
The six-month outlook is much better, with 53% of manufacturers anticipating increased activity and 12% anticipating decreased activity. New orders and shipments are the strongest components—24% anticipate an increasing headcount within the next six months, while 10% expect lower employment. Pricing pressures seem to be building, with prices paid and prices received both increasing.
Overall, the index basically showed growth in the Philadelphia Fed region, which includes eastern Philadelphia, Delaware, and southern New Jersey. In spite of the current soft patch, the six-month outlook seems much better.
Implications for homebuilders
Overall, the report shows the economy is still expanding moderately, and that the labor market should start improving. Confidence is still positive, although the outlook for the future is picking up somewhat. Consumer sentiment is driven first and foremost by jobs, and this report indicates that the job picture should improve in the next six months.
Overall increases in consumer sentiment is starting to drive more business for homebuilders, like Lennar (LEN), KB Home (KBH), Toll Brothers (TOL), Standard Pacific (SPF), and NVR (NVR). Housing starts have been so low for so long that there's some real pent-up demand that will unleash as the economy improves. The shortage of skilled workers could negatively affect margins as business expands. We saw some mention of margin pressures going forward for homebuilders, although virtually every builder reported increased gross margins.