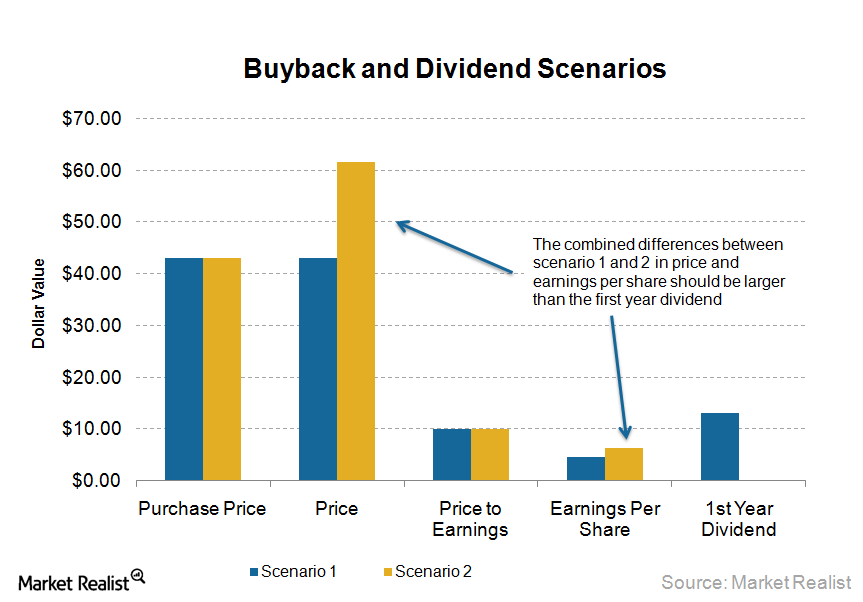 Mosaic and CF Industries could be severely undervalued (Part 5)
By Xun Yao Chen

Nov. 20 2020, Updated 11:09 a.m. ET
Continued from Part 4
Why buy back?
Investors may wonder why Mosaic Co. (MOS) is looking to buy back shares instead of distributing the earnings as dividends. From a company's standpoint, the value of the company in the market today doesn't matter. Whether it returns cash when the share prices are high or low, it won't affect the company's financials. Plus, when dividends rise, investors often see the increase as a positive because dividends provide a steady cash flow. Since managers often can't cut back dividends once they rise, because that would make the company less attractive, companies often raise dividends when the business will continue to do well or is expected to do better in the future.
Dividend scenario
Article continues below advertisement
A one-time special dividend is also possible. But unlike share buybacks, dividends are taxed immediately, which is a negative. Also, consider a situation when a company's share prices are undervalued. Suppose in the first case, Mosaic gave 30% of its current market cap worth of cash (after increasing debt) to shareholders as a special dividend. With the current share price at ~$43, Mosaic is essentially giving back $13 to investors—an immediate 30% return for investors. Following the special dividend, Mosaic will continue to distribute all of its earnings to its shareholders. Since earnings haven't changed, and the base purchase price for a share of Mosaic is still $43,[1. When dividends fall, share prices often fall too. But in this case, we're assuming investors only look at price-to-earnings ratios.] the annual return is one over the raw price-to-earnings ratio of 9.83x, which is close to a 10% return.
Share repurchase scenario
Now, in the second case, Mosaic will buy back 30% of its shares. A decline of 30% in the number of shares would increase the EPS (earnings per share) by 43% in the future. So although net income hasn't changed, EPS rose by 43%. Suddenly, the price-to-earnings ratio drops. Investors looking at a 9.83x multiple in the past would now see 6.87. If Mosaic has a 100% probability of hitting the same earnings in the future, and the market is asking for a 10% return on it, share prices will rise by 43%. What used to be $43 will now be $61.49. In this second case, earnings per share have also increased by 43%, while the base price that the investor purchased at is still $43. Because the investor would have generated 10% before the share buyback, with earnings per share of ~$4.3, an increase of 43% in EPS would give the investor 14.3% in return every year. That's a much better deal than dividends.
Continue to Part 6