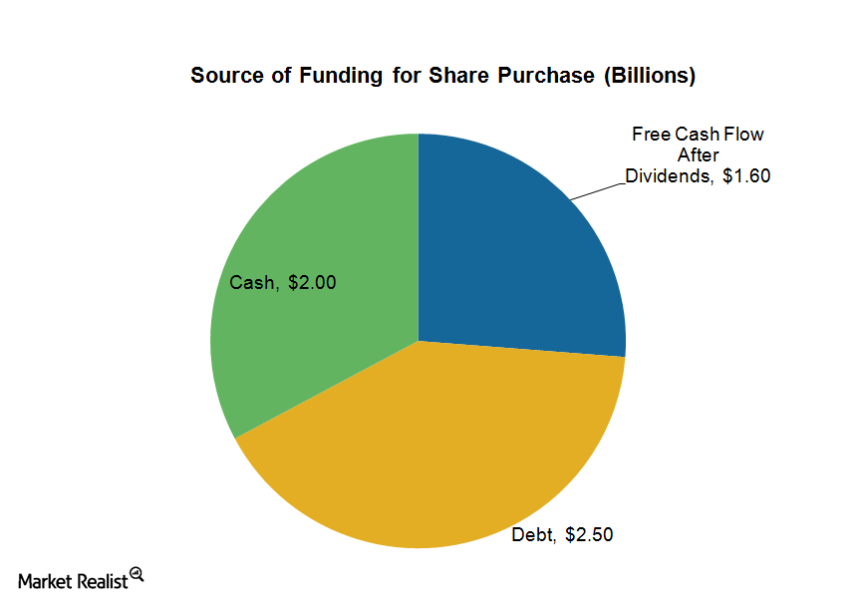 Mosaic and CF Industries could be severely undervalued (Part 4)
By Xun Yao Chen

Dec. 4 2020, Updated 10:53 a.m. ET
Continued from Part 3
Source of funding
As Mosaic Co. (MOS) postpones its potash expansion for one or two years, and fiscal year 2013's working capital increase reverses (largely due to an inventory build-up), we could expect the company to generate a free cash flow after dividends amount of ~800 million per year over the next two years. An additional $2.5 billion of debt, $1.6 billion in free cash flow after dividends, and ~$2.0 billion of existing cash would create room for ~$5.6 billion of purchasing power—the likely minimum amount that the company will use if share prices bottom at the current price.
Keeping ratios in line
Article continues below advertisement
With current debt of $1.0 billion, the addition of $2.5 billion in new loans would increase total debt to $3.5 billion. On the other hand, current equity of $13 billion should increase by $2.8 billion due to earnings after dividends over the next two years and at least $2.6 billion worth of share repurchase using excess cash and cash generated from two years worth of operations should lead to $12.5 billion, giving us a new debt-to-equity ratio of 0.29. This is slightly lower than Potash Corp. (POT)'s current 0.35. And with a debt-to-EBITDA (earnings before interest, taxes, depreciation, and amortization) ratio of 1.23, (using 2013's EBTIDA figures), there should be enough room for the company to stay under the debt-to-EBITDA limit set by its credit agreements.
Effect on earnings
The addition of $2.5 billion worth of debt would increase interest payments by a minimum of ~$86 million per year based on an after-tax cost of debt of 3.41%. But the maximum possible repurchase of 128.8 million shares from Cargill over the next three years will cut market cap by 30%. After recalculating the new market cap and earnings number, the new price-to-earnings multiple for Mosaic's business is just 6.85, down 30% from the current raw ratio of 9.83, which reflects an annual return of 14.60%.
Continue to Part 5