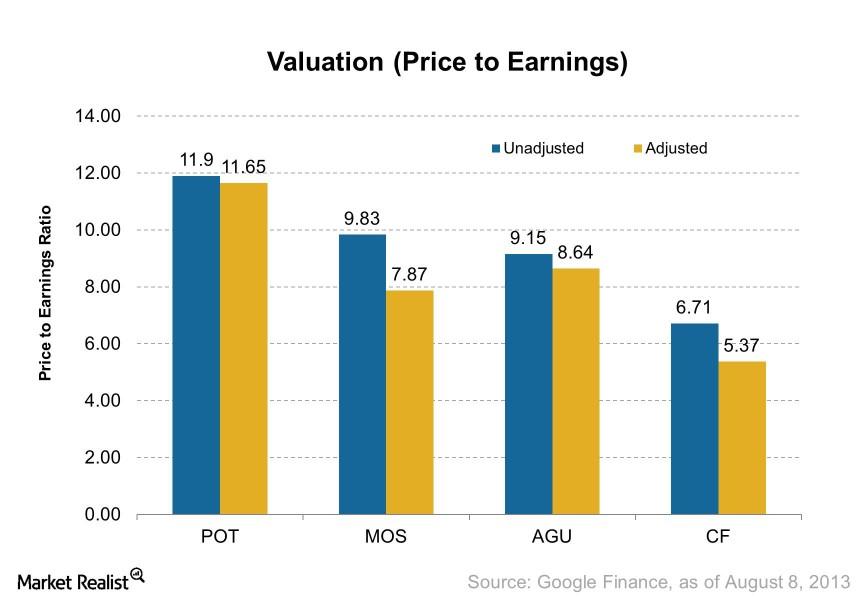 Mosaic and CF Industries could be severely undervalued (Part 2)
By Xun Yao Chen

Nov. 20 2020, Updated 1:33 p.m. ET
Back to Part 1
Share of market cap
While $3.7 billion and $2.7 billion of cash may not seem like a lot compared to Apple's ~$150 billion, it's crucial for investors not to get distracted by the absolute amount. What's important for investors is knowing how much "excess cash" they're receiving based on how much they're paying for.
One simple ratio that does the trick divides the amount of "excess cash" by the market cap (the value of the company in the market based on the price of shares traded). Using the market cap on August 6, we see that "excess cash" amounted to roughly 20% of the market cap for both Mosaic Co. (MOS) and CF Industries Holdings Inc. (CF). Essentially, this means investors received the company shares for a 20% discount. So although CF industries holds less cash than Mosaic does, investors receive the same discount.
Valuation for core business
Article continues below advertisement
Because a 20% discount on CF Industries and Mosaic's shares means investors would be paying 20% less for the company's core operating business, the price-to-earnings multiple must then adjust downward by 20%. We do this by multiplying the pre-discounted price-to-earnings ratio by one minus the discount percent. Although the changes for Potash Corp. (POT) and Agrium Inc. (AGU) aren't significant, the changes for MOS and CF were significant, since they fell from 9.83 to 7.87 times and 6.71 to 5.37 times, respectively. So, the cash-adjusted investment returns in Mosaic's and CF Industries' core business are 12.71% and 18.63%—if earnings stay constant every year.[1. We do this by dividing one by the price-to-earnings ratio. In a more expanded form, one divided by price divided by earnings will give earnings over price.]
For a more detailed calculation, investors remove the after-tax interest income associated with the "excess cash" by subtracting (1 – tax rate) times the interest income from net earnings attributable to shareholders. This is because the net earnings reported on a company's financial statement also include the income generated from "excess cash."
However, the effect of interest income on an adjusted price-to-earnings ratio is often insignificant because the interest income that companies can generate through short-term deposits and government bonds are generally small compared to the money companies make from their core business. This is especially true for fertilizer companies that boast returns of above 10% on assets, which beats the S&P 500 companies' average of ~2.8% historically.
Continue to Part 3