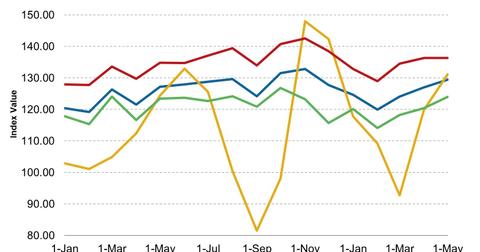 Mexico's growth picks up in June, what will drive growth? (Part 1)
By Dale A. Norton, ME

Updated
The latest global activity indicator showed a meaningful increase in economic activity
The global activity economic indicator in Mexico (EWW) is a gauge of GDP performance by broad industry sectors. It's published monthly by the Mexican Institute for Statistics and Geography. The global economic indicator indices allow investors to distinguish between growth in the industrial and agricultural sectors and growth in the services sector. Despite the indicator's lagging nature, it offers insight into how each of the three main sectors of the economy are performing.

Consumer spending drives the Mexican economy. This has a strong effect on the services sector and (to a lesser degree) the manufacturing sector, which is also driven strongly by exports.
Economic activity up
Article continues below advertisement
The index grew 0.45% in May—which is three times as much as the average monthly increase since January 2012. However, the increase comes after a 0.7% drop the previous month.
The jump could have been higher, although the agricultural sector dragged down the main index. But manufacturing and services showed decent rebounds from their April values.
Read on for the breakdown of each of the three sectors
This analysis continues in Part 2.