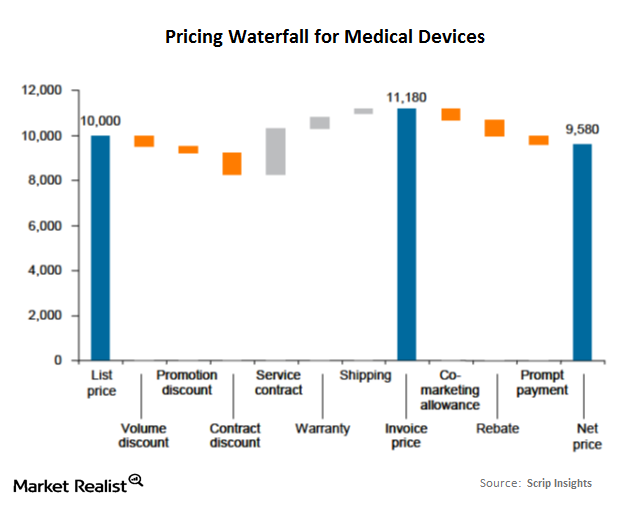 Medtronic purchases Cardiocom: Bad for medical device industry?
By Amritpal Khalsa

Aug. 29 2013, Published 2:46 p.m. ET
A shift in strategy
Medtronic has always been considered a bellwether for the medical device industry because of its pure focus on the device market. Yet that changed in mid-August, as Medtronic announced its acquisition of Cardiocom.
Cardiocom is a population health management or telehealth company with around $40 million to $50 million in revenue per year—a paltry amount compared to Medtronic. This acquisition precipitates the company's large strategic shift from being a device manufacturer to a "healthcare service provider." As the most prominent device manufacturer, it's very likely others will follow suit.
Significant reimbursement and pricing pressure ahead?
The pricing for medical devices is already a very complicated process compared to retail products, leaving little room for pricing relief.
Article continues below advertisement
The strategic shift in the company might be the manufacturer's attempt to diversify away from upcoming harsher reimbursement policy, hospital budget cutbacks, and Affordable Care Act overhauls (including the device excise tax). Device makers like Fresnius and DaVita have already slid on reports from the Center for Medicare and Medicaid services, proposing 9% reimbursement decreases for dialysis technology. Other proposed cuts include reimbursement cuts for CT and MR scans, indicating possible decreases in device use and demand.
Problems may also lie with hospitals responding to upcoming reimbursement changes by insurers and the government. As devices most often make up the majority of the bill, hospitals are targeting those products in their cost optimization efforts, replacing them with lower-cost or imported alternatives. Pricing pressure by hospitals on device makers is at its highest. This signals that suppliers may have to absorb a majority of the excise tax, driving valuations further down. St. Jude's CEO, Daniel J. Sparks, explained that the company has been able to walk away from pricing pressure, claiming that its average prices are very stable yet acknowledging that pressure is growing dramatically.
Article continues below advertisement
Proponents of the medical device excise tax support the measure, citing the expected increase in demand. Yet analysts expect cost optimization efforts will turn hospitals toward imported alternatives, harming large domestic manufacturer revenues. Boston Scientific Corp. has reported significant erosion in the market for drug-coated stents, citing pricing pressure that wasn't anywhere near offset by positive unit trends.
Pre-empting a tough market
It seems that Medtronic is pre-empting a tough market ahead with this acquisition of Cardiocom—a shift towards an industry with policies changing in its favor in contrast to the device industry. In 2012, DaVita did the same, pre-empting the dialysis reimbursement changes with its diversification and purchase of Healthcare Partners, a provider group.